Teesside engineering apprenticeship student named ICE Future Leader
A Teesside University engineering apprenticeship student has been chosen to join a prestigious scheme for the brightest young engineers.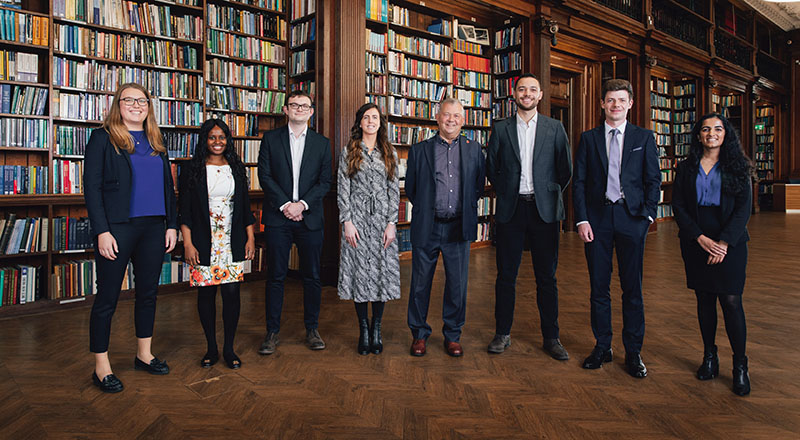 Lucy Davison, final year Civil Engineer Professional Apprenticeship student in the University's School of Computing, Engineering & Digital Technologies, has been named as one of the Institution of Civil Engineers ICE President's Future Leaders for 2022-23.
The ICE President's Future Leader scheme has been running since 2005. Each year the ICE President chooses some of the brightest and most motivated graduate and technician members to join the Future Leaders Scheme.
Lucy, 28, from Marske-by-the-Sea, currently works as an Assistant Engineer in the Track Team at SYSTRA Ltd. She said: "It's a complete honour to have been chosen as a Future Leader; it's a highly competitive, prestigious, scheme.
"It will involve working on key institutional projects alongside and under the mentorship of ICE President Keith Howells and other senior engineering professionals."
Lucy added: "I'm combining work with study as part of the Higher Degree Apprenticeship (HDA) programme. Prior to enrolling on the degree, I completed a HNC in Civil Engineering at Teesside University, which was also part of an apprenticeship scheme.
"I have eight years industry experience working in the rail sector. My day is mostly spent producing horizontal and vertical track alignment designs, drawings and calculation files and undertaking gauge clearance assessments.
"I've worked on a range of track renewal schemes, track-off/track-on schemes and tamping schemes to accommodate line speed increases, the renewal of civil assets, the introduction of new rolling stock and to achieve gauge clearance for route cleared rolling stock."
Lucy added: "I chose Teesside University as it was ranked higher than other universities I was considering applying to. The civil engineering degree is accredited by the Joint Board of Moderators (JBM) which means I will fulfil the education criteria to achieve Incorporated Engineer status with the ICE (IEng MICE).
It's a complete honour to have been chosen as a Future Leader; it's a highly competitive, prestigious, scheme.
"I am keen to progress in my studies to master's level, specialising in railway engineering and work towards Chartership with the ICE (CEng MICE)."
Lucy, whose interest in engineering was sparked while a pupil of specialist technology school Bydales in Marske, added "I am excited to collaborate with my fellow Future Leaders and hope to communicate my ideas of refining existing policies to result in significant improvements on the effectiveness of several processes within our industry."
Valeria Bona, Civil Engineering course leader in the University's School of Computing, Engineering and Digital Technologies, said: "As an ICE President's Future Leader, Lucy will be working on projects which are integral to the ICE's Business Plan and have an impact on the industry.
"Lucy's achievement is a credit to her excellent academic performance and high commitment to the civil engineering profession and this further strengthens the existing academic partnership between Teesside University and the Institution of Civil Engineers. We wish Lucy all the best in this new exciting challenge."
Jo Burgess, Director of Apprenticeships, Teesside University, said: "It is brilliant to see one of our apprenticeship students achieving such prestigious recognition as a future leader in the industry that she is forging her career.
"This will be a great opportunity for Lucy, both personally and professionally, while also inspiring to others who are considering combining academic study with work through a degree apprenticeship."
---