Support for talented computing student
A talented computing student has been presented with IT equipment by The Teesside Charity to support him with his studies.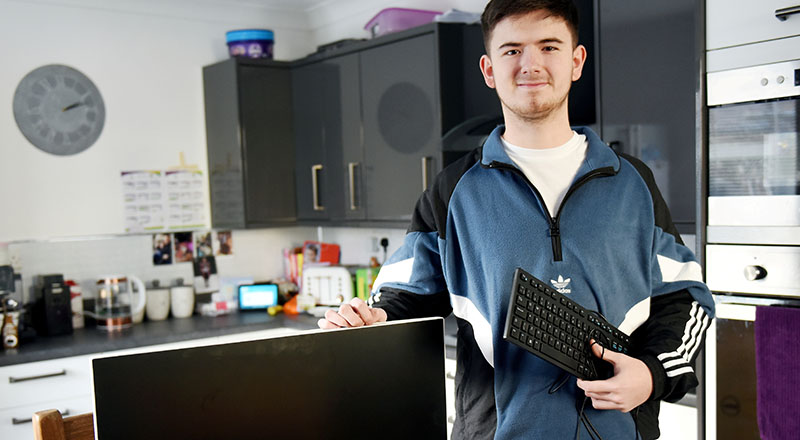 Jack Dorsi, first year BSc (Hons) Information Technology student in the University's School of Computing, Engineering & Digital Technologies, received a donation of a new computer and software from The Teesside Charity.
The Teesside Charity, formerly known as the Middlesbrough and Teesside Philanthropic Foundation, worked in partnership with Teesside University to set up new scholarships to support more students from the region to reach their full potential.
Jack applied for support through The Teesside Charity Scholarship and although not successful in securing a scholarship, the panel was so impressed with his application that they wanted to make a gesture to offer some help.
The Teesside Charity has now provided Jack with computer equipment and software to help with his studies. Jack, 19, of Thornaby, said: "The offer came out of the blue. It really means a lot and it will make such a massive difference to me.
I'm really enjoying the course and having this computer will be a massive help
"I work at a sports store when I'm not studying. I've been doing my university work on a laptop, which I have found difficult at times. This will be a really big help."
Jack, who is hoping to pursue a career in web development, said: "I had moved away from home and started to study accountancy at another university, but soon realised it wasn't for me.
"I moved back home to Thornaby and decided to apply to study computing at Teesside. It was my girlfriend's mam who encouraged me to apply for the scholarship.
"I'm really enjoying the course and having this computer will be a massive help."
The Teesside Charity Scholarships are specifically aimed at those who would be first generation university students and are linked to courses in business and computer science.
---