Fake sites get taste of own medicine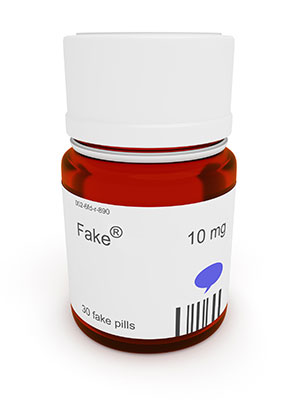 According to estimates, the global trade in counterfeit, falsified, unlicensed and substandard medicinal products has grown by 90% since 2005, with an approximate annual turnover of $200 billion. It has now overtaken marijuana and prostitution as the largest illicit market for criminal traffickers. Despite growing public concern and media attention, however, criminologists and sociologists have yet to deconstruct this life-threatening online market.
Georgios Antonopoulos, Teesside University's Professor of Criminology at the School of Social Sciences, Humanities and Law, has led research on preventing harm through studying the online trade in counterfeit medicines. The project has adopted an interdisciplinary approach, drawing on expertise from a range of fields, including criminology, sociology, law, political science, health and medicine.

It forms part of the wider 'Fakecare' project that unfolded across Europe and encompassed all European Union member states. The eCrime group of the University of Trento in Italy was responsible for coordinating Fakecare, while Teesside University participated in the initiative and the European Commission financed it. The project's overarching aim was to develop the expertise needed to defeat the online trade in fake medicines by disseminating knowledge and forming counterstrategies.

Professor Antonopoulos's research has been impacting law enforcement and health regulatory policy throughout Europe and Fakecare has provided vital information and a communications tool – FAST. In the fight against fraudulent medicines, FAST uses a sophisticated algorithm to identify illegal online pharmacies – malicious websites that prey on vulnerable people with the promise of cheap medicines.

Interpol has used Fakecare for the automatic identification and classification of illegal online pharmacies during its internet-specific 'Pangea Operations'. The UK Medical and Health Products Regulatory Agency has also tested the tool, and other national bodies that have used it include the Spanish, German, Portuguese and Dutch medical regulatory agencies.

Additionally, Fakecare has built 'honeypot' websites – domains that resemble online pharmacies. The sites have provided vital information about how people behave when trying to acquire pharmaceuticals. Moreover, Professor Antonopoulos's team have used these websites to discourage visitors from buying pharmaceuticals online.
'When users try to complete a purchase on the domain an awareness page is triggered explaining the dangers of purchasing medicinal products via illegal online sources,' explains Professor Antonopoulos.
The international peace-seeking Chirac Foundation now considers Fakecare – which has yielded game-changing counteractive measures that have reverberated across Europe – to be among the five most important projects of its type in the world.

The research has also given rise to essential guidelines that assist agencies in tackling the online trade of falsified medicinal products. They outline what should be considered when investigating the online trade in illicit medicines and provide specific information on classifying fake medicines. It goes on to list the most popular counterfeited products being traded and advises on detection avoidance tactics. The guidelines conclude with a list of organisations and initiatives dedicated to tackling the trade.

Most recently, the Health Products Regulatory Authority of Ireland has used the guidelines to explain many of the issues associated with the unauthorised sale of medicines.
---