Impact Framework
The Teesside University Impact Framework outlines the values and behaviours, capabilities and competencies, and mechanisms for advancing research impact at Teesside University. The framework seeks to ensure that our approach to impact is:
underpinned by high quality research and research outputs
demonstrable and evidence based
strategic and significant
ethical and engaged.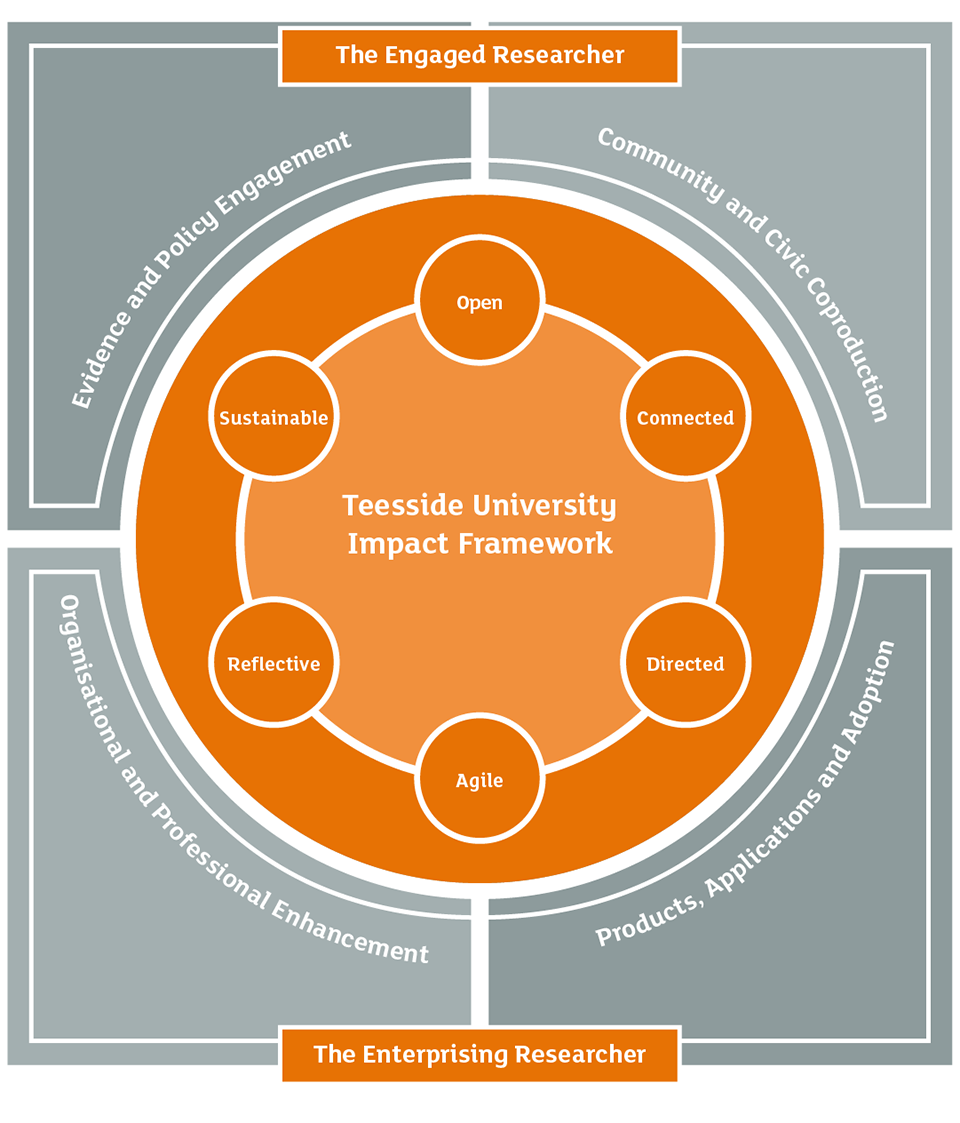 Our overarching approach to research impact centres on six core values and behaviours:
Open: Our research data and outputs are open, accessible, and effectively shared ensuring our research has the greatest reach possible.
Connected: Our research is team-based and engaged, involving stakeholders and beneficiaries at every stage of the research lifecycle.
Directed: The potential impact of our research is discussed at the design stage with a clear theory of change mapped out.
Agile: Flexibility and contingency are built into our research projects to ensure impact pathways are modified to changing contexts and unanticipated challenges.
Reflective: Our approach to impact is reviewed and evaluated regularly to monitor the success of interventions, capture learning, and identity areas for improvement.
Sustainable: Our research projects embed legacy and sustainability planning to ensure partnerships are fair and equitable.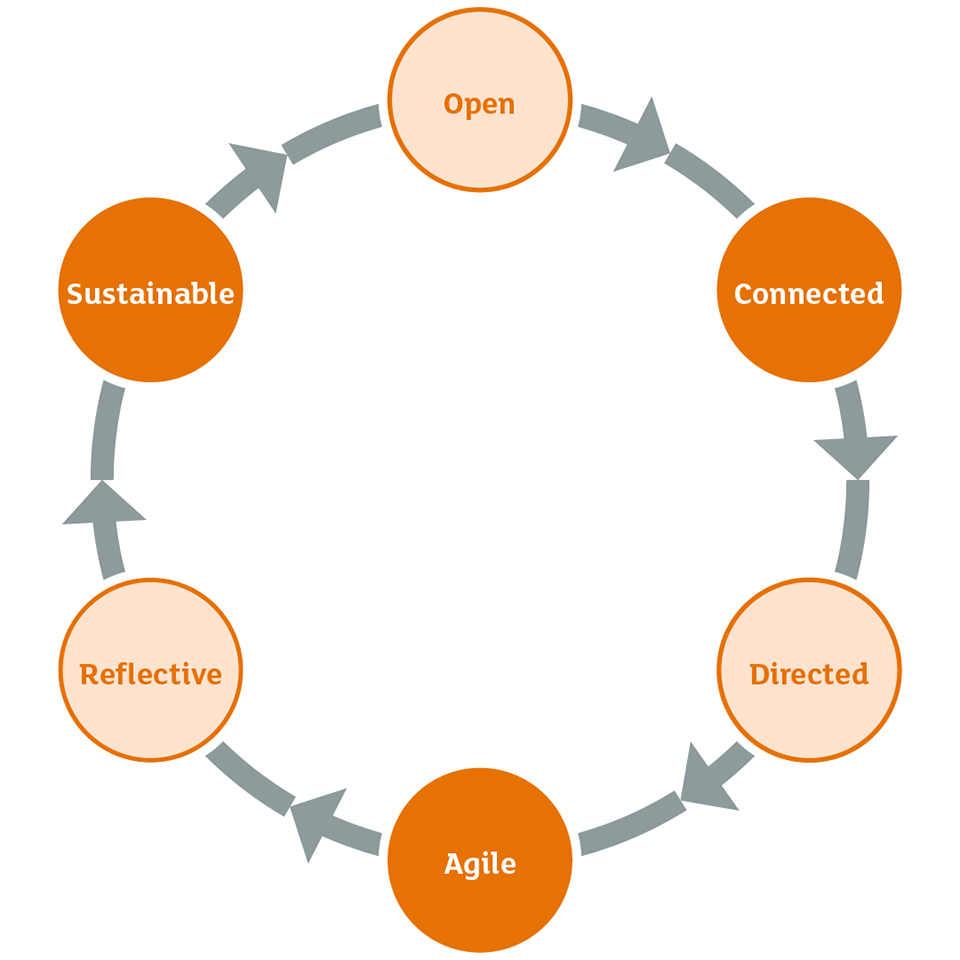 Our responsible approach to research impact is delivered through four key mechanisms:
evidence and policy engagement
community and civic coproduction
organisational and professional improvement
products, applications, and adoptions.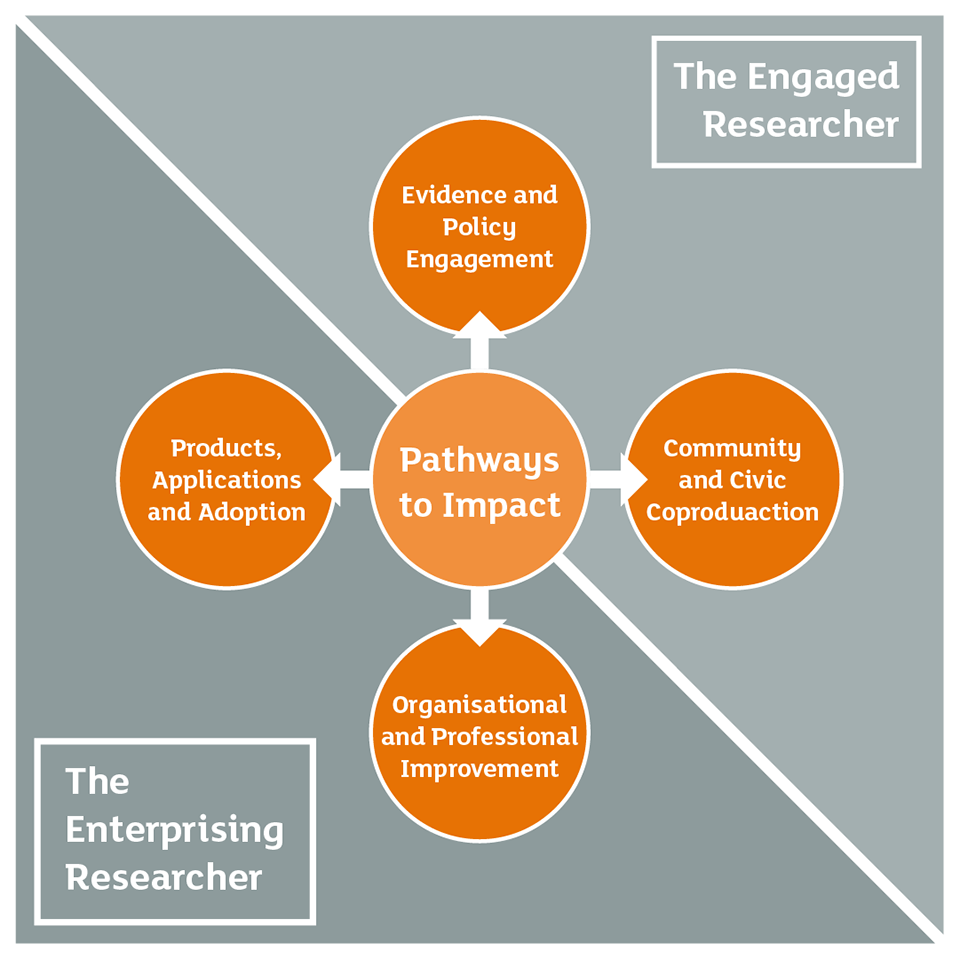 Although there is inevitably overlap and intersections between these pathways, these pathways or mechanism for research impact are used to direct and focus our support structures and offer, which are broadly aligned two 'types' of researcher: the engaged researcher and the enterprising researcher. The compentencies and capabiltiies aligned to each of these 'types' and the aligned impact pathways are detailed below. Our researcher development programme combined with the TU learning and development offer provides training and support in these areas.
---
The Engaged Researcher
Intellectual abilities
Coproduction methodologies
Knowledge and Intellectual Abilities
Citizen Science and Science Communication
Coproduction Methodologies
Understanding Open Research and Open Data
Research Evaluation and Synthesis
Personal effectiveness
Online Engagement
Data Visualization
Influence and Negotiation
Change Management
Vision, Values, and Engagement
Public Speaking
Research governance and organisation
Understanding Policymaking Processes
Innovative Approaches to Public and Community Engagement
Civic Engagement
Funding to Support Civic, Community and Policy Engagement
Fair and Equitable Partnership Working
Engagement, influence and impact
Writing Reports and Briefings
Engaging the Media
Developing an Impact Strategy
Designing a Theory for Change
Evidencing and Articulating Social and Cultural Impact
Ensuring Legacy and Sustainable Development
---
The Enterprising Researcher
Knowledge and intellectual abilities
Responsible Research and Innovation
Collaborative and Problem-Centered Research
Market Research
Entrepreneurship and Intrapreneurship
Personal effectiveness
Opportunity Recognition
Networking with Business
Online Engagement
Influence and Negotiation
Change Management
Vision, Values, and Engagement
Research governance and organisation
Understanding Intellectual Property
Social Innovation and Enterprise
Fair and Equitable Partnership Working
Developing a Business Case
Funding to Support Business Engagement
Engagement, influence and impact
Facilitating Successful Partnership and Collaborations
Stakeholder Engagement
Developing an Impact Strategy
Designing a Theory for Change
Evidencing and Articulating Social and Economic Impact
Ensuring Legacy and Sustainable Development