Moving societies away from the far-right edge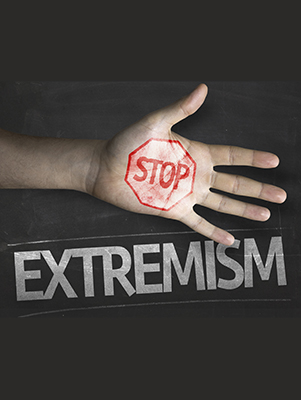 Far-right extremism remains a very real 21st century problem. Its intercontinental escalation continues wherever there is war, civil unrest, political apathy, public disorder or alienation. In the shadow of terrorism and radicalisation, mitigating its corrosive effects on society has become the cultural challenge of our ages.
'My research is embedded within the University's Grand Challenge theme of Resilient and Secure Societies. I want to contribute to practitioner practice at both national and international levels, identifying what makes interventions designed to change racist attitudes and behaviour in young people effective.'
Professor Nigel Copsey, specialist in fascism and anti-fascism at Teesside University, has researched the complex situation in the UK since the 1990s. Through 'Responding to Far-Right Extremism: The British National Party and English Defence League', Professor Copsey has been working to broaden understanding of radicalisation, demonstrate that it is not located in one religion or community and explore the effects of radicalisation on society.


Critically, his research looks to understand the challenges that right-wing extremism poses and the extent to which societies have been, or are, resilient to them.
The wider societal impact of the study involves raising public awareness of how contemporary far-right extremism manifests itself. This has occurred through studies covering the British National Party and English Defence League – the two most influential far-right organisations in Britain's recent history. A key focus within Professor Copsey's study is to raise consciousness of contemporary far-right extremism among young adults – the demographic most often targeted for recruitment.


As part of the research into young people and attitudinal change, the Big Lottery-funded 'Challenging Youth Racism in North East England' project assesses the situation on the ground among young people in various communities. With this in mind, Professor Copsey and Teesside University are partnering with the third sector charity organisation, Humankind, to deliver educational interventions that directly challenge racism and intolerance.


Professor Copsey is also informing policy debates around the nature of far-right violent radicalisation and triggering debate on hate crime. This has been particularly stark through interactions within communities.


The Youth Racism project had completed 165 sessions with 3,660 young people across 27 different schools, colleges and community groups in the North East of England by January 2018. This direct intervention tested the impact of openly discussing racism, and empowered young people with shared information and ideas. The sessions resulted in 36% of participants reporting increased skills, knowledge and confidence to challenge racist and intolerant behaviour, while 40% reported increased understanding of the impact of intolerance and racism.


Professor Copsey is also a participant in the EU's Horizon 2020 programme, 'Dialogue About Radicalisation and Equality' (DARE). The initiative aims to significantly increase understanding of why and how young people become radicalised, and society's capacity to effectively counter radicalisation. The project focuses on people aged between 12 and 30, and will approach young people neither as victims nor perpetrators of radicalisation, but as engaged, reflexive, often passionate social actors who seek information they can trust.
---