Untouchable technology casts light on future models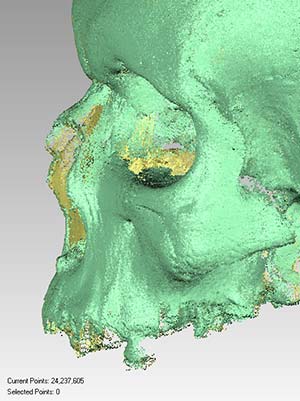 Fragile, decaying and precious objects such as ancient pottery and forensic evidence are often placed at risk by the necessity of humans to touch, examine or transport them. During the handling process, damage can be caused that undermines research, exhibitions and legal procedures. In response, researchers at Teesside University have developed a unique, non-intrusive method of scanning and securing information about objects, shedding light on the potential of 3D models – quite literally.
Tim Thompson is Teesside University's Professor of Applied Biological Anthropology at the School of Science, Engineering and Design. He and his team, including Teesside's Dr David Errickson and several PhD students, have undertaken ground breaking 'non-contact structured light surface scanning' research to protect items of interest and maximise analysis.


The project has developed a fast, effective and non-destructive method of recording the surfaces of objects, yielding highly detailed 3D models that replicate the objects they have scanned and allow further analysis to take place. The team's method is regarded as game-changing in its development and can be used on everything from fragile archaeological artefacts to grime-encrusted engineering parts, and even vital forensic evidence.


The surface scanning technique that the researchers are using encompasses structured light, picks up over 19,000 'points' on an object per second and has never previously been exploited with the same vigour. The innovative technique has resulted in interactive 3D models that can be used in a range of contexts to visualise artefacts in sharp relief.


Professor Thompson's method has been so successful that it is already being incorporated in several institutions. Durham Castle Museum is using the technology for object preservation and analysis, while the osteology company, anthronomics, is utilising it to develop digital tools that support learning and enhance teaching.


The research has also impacted new standards of reliability, portability and safety.
'It functions indoors and outdoors, in a variety of environments and is suitable for critical examination. Much of our research has concentrated on addressing these issues, ensuring that the method works universally and produces valid results.'
Additionally, there is considerable potential for the 3D models to be used in legal situations. In forensic anthropology, for example, if a case has to go to court and a fragile piece of bone or a crumbling skull cannot be taken into the building, surface scanning allows the reproduction of evidence without damaging actual remains. Instead, 3D digitisations would be used as a substitute for visualisation within the courtroom.


Meanwhile, there could also be a revolution in the documenting of archaeological items, which are often eroded or irreparably damaged through over-handling. The 2D documentation of a 3D object would, effectively, be replaced by the light surface scanning method Professor Thompson and his team pioneered.


With such a positive reaction to the team's activities so far, Professor Thompson is optimistic about the future. 'We have carried out world-leading research that is already making a difference – we expect to see a significant increase in the way this method is deployed,' he concludes.
---