National recognition for anti-racism research
Leading research from Teesside University has been used as an example of good practice in a Government-commissioned report into challenging extremism.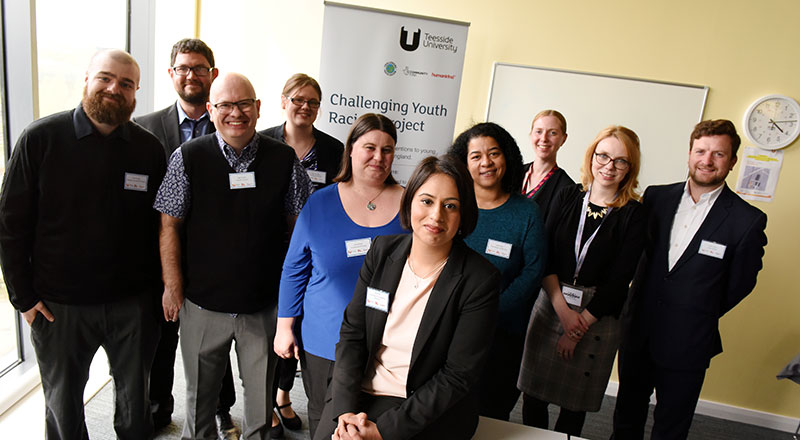 The Commission for Countering Extremism published its 'Challenging Hateful Extremism' report earlier this month.
It is based on the most extensive national conversation on extremism to date and has been steered by discussions with thousands of people who work to counter extremism. The report also received almost 3,000 submissions from public consultations and reviewed hundreds of pages of Government documents.
It found that 73% of people are concerned about rising extremism and over three quarters of those countering extremism face some degree of abuse for the work they do.
The report makes a number of recommendations, including setting up a counter hateful extremism taskforce, chaired by the Home Secretary and there is also a call for social media companies to reduce the hostile atmosphere on their platforms.
Among the report is a section dedicated to the Challenging Youth Racism project carried out by academics at Teesside University and practitioners from Humankind. It states that more projects such as this should be used to tackle hateful extremist narratives.
The Challenging Youth Racism project was a three year initiative that delivered more than 350 workshops to over 7,000 people across the North East.
The workshops, which were delivered to young people aged between 11 and 19, were designed to increase acceptance of others, increase awareness about the impact of racism and encourage young people to challenge and report racism when they see it.
Research being carried out here at Teesside University is having a considerable impact and helping to inform Government policy.
As a result of the workshops carried out by the project:
• 74% of young people increased their willingness to challenge or report racist behaviour . • 65% of young people increased their understanding of how racist behaviour impacts people. • 85% of young people maintained or increased their acceptance of people of a different religion, nationality and/or skin colour.
Earlier this year, Sara Khan, the Lead Commissioner for Countering Extremism, personally praised the Teesside University project saying it shows how much can be achieved by giving young people the tools to unpick and challenge hateful narratives.
Professor Nigel Copsey, a Professor (Research) of Modern History in the University's School of Social Sciences, Humanities & Law, has researched extensively into right-wing extremism, fascism and anti-fascism.
He said: 'The Challenging Youth Racism project has been incredibly well received and has had a lot of positive outcomes and engagement.
'It is great to receive yet more recognition for the project with it being included in the Commission for Countering Extremism's 'Challenging Hateful Extremism' report. It shows that the research being carried out here at Teesside University is having a considerable impact and helping to inform Government policy.'
---