Students show a passion for fashion
Budding designers have showcased their expertise at a glittering fashion show in Middlesbrough.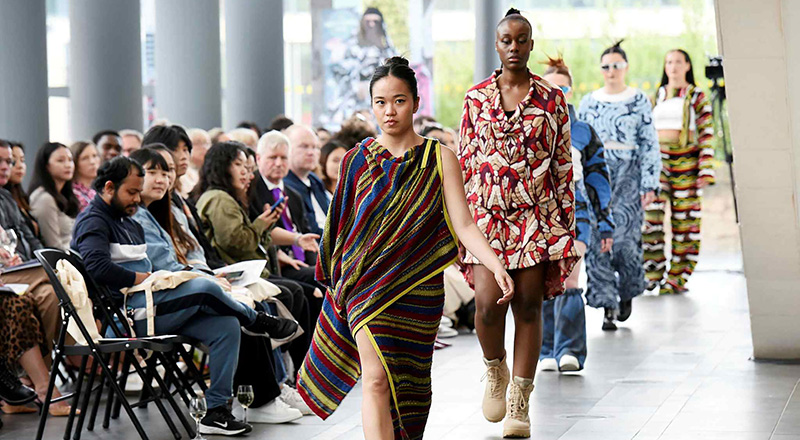 The exhibition was held as part of the Framing Talent Degree Showcase at Teesside University, giving students the chance to show their collections in front of industry professionals, their peers and loved ones.
Held at Middlesbrough Institute of Modern Art (MIMA), in Middlesbrough's Centre Square, proud families and friends watched on as students displayed their skills in design, creative pattern cutting and industrial manufacturing.
The final-year student projects were inspired by real issues such as mental health, digital technologies, sustainability, and the environment – with one garment even being made from an old duvet.
Among the exhibitors was 24-year-old Harry Tribe, a final-year fashion and textiles student, entrepreneur and owner of TRIBE VISION.
Harry, from Middlesbrough, initially set up his brand selling printed T-shirts, hoodies, and headwear, and later moved on to creating denim garments using recycled materials. He's since taken his work into the virtual world, developing skills in digital rendering for the fashion industry.
His autumn/winter 2023 After Hours collection seeks to expose the darkness of the fashion industry hidden behind a glamorous façade. The contemporary unisex collection was designed using 3D software with avatars to visualise the looks, before entering the sewing studio.
Harry said: "It was really important to make a statement with this collection. During my research, I uncovered so many unruly facts about the fashion industry and what goes on daily.
"All the garments were designed with this in mind. My goal was to create a unique streetwear collection inspired by darkness, that covers the face and body to not only provide enhanced protection from harsh weather conditions, but to also remove any kind of body expectation from models and consumers.
Not only have our students created some showstopping garments, but they have also truly made an impact through their work.
"The collection aims to prove that body image and the beauty standards within the industry do not define who you are."
Elsewhere, final-year fashion student Abigayle Welcome sought to break down barriers with her Sensory Overload collection, which was inspired by the minds of people with autism.
The centrepiece was the Acceptance Dress – a multicoloured, multitextured, patchwork garment inspired by popular children's book series, 'Elmer the Patchwork Elephant'. The stories promote acceptance, something Abigayle was aiming to reflect in her colourful collection.
Abigayle, 23, from Skelton, said: "I think there is still quite a big stigma around autism. I have autism myself and it has been a big struggle throughout my life. But autism is actually a very beautiful thing – I'm trying to show this through my designs and help to spread awareness and acceptance."
Lynne Hugill, Principal Lecturer (International) in the School of Arts & Creative Industries, hosted the event and said: "The standard of the work was exceptional. Our students have created some truly unique and inspirational collections that reflect on wider issues in society.
"The students did a brilliant job of organising the show themselves – and we're extremely grateful to the photography and music technology students who have helped us along the way. I am sure we will be seeing much more from them in the future."
Laura Sillars, Dean of the School of Arts & Creative Industries and MIMA Director, said: "Not only have our students created some showstopping garments, but they have also truly made an impact through their work.
"With a significant focus on the environment and community, they have changed both their lives and others – and I am confident we'll see them go on to great things within the industry."
---