National competition success for Teesside University design teams
Two teams of students at Teesside University have won a prestigious sustainable building design competition.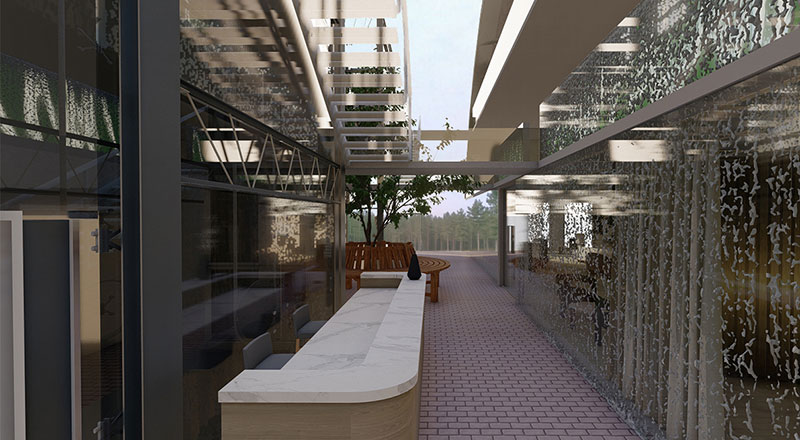 The students from the University's School of Arts & Creative Industries beat off competition from across the country to pick up the top spot in the Eco-Fix MOBIE design challenge.
The challenge, created by MOBIE – Ministry of Building Innovation and Education - an education charity founded by renowned architect and television presenter George Clarke, with international architecture practice Grimshaw and international consultancy and construction company Mace, asked young people to design innovative and inspirational ways to reuse existing homes and buildings.
Entrants, from across the UK, identified a building or buildings which are energy-inefficient and therefore in need of critical improvement.
Applying design knowledge, skills and, most importantly, creativity and imagination the submitted proposals focused on retrofit - the updating, upgrading and repurposing of buildings.
The challenge highlighted the critical role our existing homes, buildings and cities have in reducing energy, saving precious resources and ultimately addressing the climate crisis.
The two Teesside University teams, consisting of second year BA (Hons) Interior Design and BA (Hons) Interior Architecture students, were both awarded joint first place for their proposals to retrofit the Grade II Keelmans' Hospital in Newcastle Upon Tyne to social housing for elderly residents and to create a multi-level, multi-functional living community at former RAF hangars, at Woodbridge, near Ipswich Suffolk.
George, who presents Channel 4's Amazing Spaces and Old House New Home, and was recently made an honorary doctorate of Teesside University, said: "Home is the most important piece of architecture in our lives.
"It crafts the way we live, and how we grow as families and communities. The built environment accounts for 40% of our carbon emissions and there are around 27 million homes in the UK that need to be retrofitted by 2050 if we are to achieve our net zero obligations and avoid 1.5 degrees of warming. We must make our existing buildings more energy efficient for people and the planet."
He Clarke added: "I expected to see incredible design talent and imagination come forward and I was not disappointed.
"The winners came up with inspirational designs. It is clear young people have great ideas about how to reuse old buildings and how we can reduce their environmental impact. The uses of technology to adapt buildings for a variety of users and to reduce their energy use were amazing and so imaginative.
"It was hard for the judges to choose the winners. They were genuinely wowed by the standard of the work that these young people produced. The future of the built environment, and the planet, is in great hands with talent like this around - I can't wait to see what they do next."
Richard Sober, Associate Professor of Interior Design at Teesside University, said: "We were absolutely delighted to be told the Teesside teams were joint winners of the challenge and speechless when we heard it was two of our interior teams that shared top spot that the judges couldn't separate.
I expected to see incredible design talent and imagination come forward and I was not disappointed.
"The students worked incredibly hard throughout and demonstrated their passion for sustainability and climate change solutions, the Eco-Fix project brief gave them an opportunity to redesign an existing building and apply retrofit principles to make them greener and more energy efficient. The students not only accomplished this but with such creative and innovative solutions.
"It's incredible to gain recognition from such highly respected professionals, Grimshaw are world leading practice responsible for such famous iconic buildings and MACE construction are the experts on retrofit so the students can be very proud of their achievement with judges of this calibre."
Team Spatial Office proposed converting Keelmans' Hospital into social housing for elderly residents, creating a strong sense of community through a courtyard garden, sunroom in a new glass extension and cafes and pop-up small market style shops.
The conversion includes sustainable features such as solar panels, passive solar gain, triple insulated windows and grey water capture and reuse.
The team said: "We will renovate this building to a high standard, to house elderly residents who need a place to feel a sense of community.
"Changes to their day-to-day lives, driven by advancements in technology, the age of the internet, the lack of high street culture and face to face interactions, has resulted in this vulnerable sector of the population feeling isolated and in dire need of an enriched community. Our scheme not only meets the needs of the residents but is designed to be as eco-friendly as possible."
The other Teesside University team, Team Derive, sought to 'preserve history in a sustainable future' at the Woodbridge RAF hangars.
By using the Cold War-era aircraft hangars to house young creatives, the team drew inspiration from existing residential conversions of such buildings, as well as sustainable features used in other buildings, such as solar panels, high quality insulation, triple glazing, biomass boilers, air source heat pumps, sedum roofs and even the use of second-hand furniture.
Team Derive said: "We wanted to take into account the history of the site and preserve it while creating homes within a community. We wanted to encourage interaction, in order to build a network and enable the residents to find other like-minded people.
"We decided to create apartments and, in order to keep privacy of the flats, locate them on the first and second floors.
"The ground floor is for semi-public areas like shared workspaces. We have concentrated on sustainable living, creating homes that focus on the materials used and how everyday life can be sustainable, including maximising the use of the buildings and enhancing their performance by careful positioning of windows and doors to maximise natural light."
---