New wave for student radio station
With a passionate media student at the helm, Teesside University's radio station is back on the air after months of silence.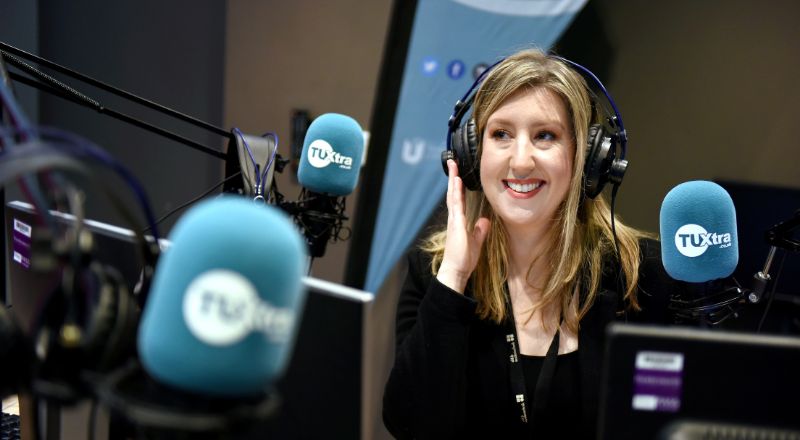 As the new Station Manager, postgraduate student Helen Lumsdon has played a major role in the relaunch of TUXtra, the student radio station.
She took up the additional responsibilities alongside her MA Digital Media and Communications studies, learning how to operate the broadcasting system, build a new music library and schedule content.
Together with the rest of the radio team, Helen is taking the student station in a new direction, delivering everything from chart hits and niche tracks to specialist programmes and coverage of local music events.
Helen, from Great Ayton, said: "We are based in the Students' Union building in the heart of campus, so there's always people around and plenty going on. It's the perfect location for a student radio station.
"Our aim is to provide meaningful content to champion the talent that is nurtured through Teesside University and to support our local community, organisations and artists.
"There has been a lot of work involved in getting TUXtra back up and running – it really has been a team effort."
As well as the enjoyment that comes from being part of the team, Helen's work as the Station Manager is helping to prepare her for a career within industry.
"I have already gained so much from being part of TUXtra," Helen added.
We are based in the Students' Union building in the heart of campus, so there's always people around and plenty going on.
"With my background in live music and audio production, getting involved with the student radio station seemed an ideal opportunity to gain valuable experience.
"I have connected with professionals from national radio stations, student radio stations, local record labels, music promoters and arts organisations.
"I know that this role will help me further develop my skills and practice in production, presenting, music promotion and people management."
State-of-the-art television studios, radio facilities and equipment enable media and journalism students to create professional content and portfolios, which can be shared through the TUXtra news platform and channel.
Jim Entwistle, Senior Lecturer in Digital Journalism, from the School of Arts & Creative Industries, said: "Appointing Helen as the new Station Manager was a great move for us.
"She has a clear vision for the future of the station and what she hopes to accomplish in the role, and we look forward to working together to achieve these goals."
Students looking to get involved with TUXtra as a presenter, writer, assistant or producer, or host their very own radio show, can email studentradio@tuxtra.co.uk.
---