Teesside rated top by international students
We have come top in a survey of the UK's international students.
More information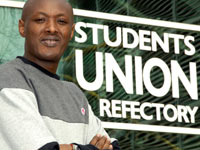 Ismael Baguma, 36, from Rwanda is part of a group of six Rwandan Police officers studying at Teesside.
The International Student Barometer (ISB) is a twice-yearly survey of international students from the UK's higher education institutions (HEIs). The autumn 2008 survey explored the views of students from 81 HEIs, with 350 of Teesside's international and European Union students taking part.
The survey is divided into four categories: Support, Learning, Arrival and Living, We attained the top overall average satisfaction score for the four categories with 87.8%. We also achieved the highest average scores for the following categories:
Support Average 92.3%
Learning Average 88.3%
Arrival Average 87.5%.
In addition, the University was rated the top HEI for 21 attributes within these four categories. These include top Students' Union in the UK, language support, library, internet access, technology and learning support. Keith Brown, Director of the University's Centre for International Development, said: 'We have performed outstandingly well in this latest survey. Teesside now has an international student population of over 800.
Positive choice to come to Teesside 'In February another 150 arrived to study here from a range of countries, including India, Nigeria, Libya and Malaysia. This is a tenfold increase on our enrolments in February 2008 and shows that international students are making positive choices to come to Teesside.' Tom Cawkwell, Students' Union President, added: 'We're delighted to see how satisfied international students are with the quality of experience provided by the University and I'd like to think their strong partnership with the Students' Union has played an important role in achieving this excellent feedback.
'It's not unusual for students from these kinds of backgrounds, particularly those from outside of the European Union, to need a lot of initial support as well as ongoing assistance. Both organisations are totally committed to providing this through induction events, advice, high quality facilities and representation from experienced staff, where required.
'It's clear the overall package is working well and we're thrilled that such an important sector of the student population is so happy with what is being provided.'
The ISB is managed by the International Graduate Insight Group who surveyed 63,711 international students studying in the UK in autumn 2008.
Ismael Baguma, 36, from Rwanda, is one of the University's international students. He has worked as a police officer back home for ten years and has been sponsored by the Rwandan National Police force to study for a Master of Science (MSc) in Criminal Investigation.
He is part of a group of six Rwandan Police officers studying at Teesside, five on the MSc Criminal Investigation and one on the MSc Criminology. Their sponsored studies are part of the professionalisation of the force's police training and supported by the British Council.
We have helped to reshape the country's police training through our links with the Rwandan National Police and the Kigali Institute of Education and this a further example of the University's international work in the area of policing.
Ismael said: 'The lecturers' methods are excellent, they are approachable and give you time to talk to them if you haven't understood something.
'The facilities such as the Learning Resource Centre are also excellent and the whole learning environment is very friendly and welcoming to international students.
'Some of us had initial problems with English and really appreciated the help and support that was given to us through the English language programme. I also liked the idea that when we arrived here we were given priority to stay in University accommodation, otherwise it would have been very difficult.'
Ismael will finish his MSc this autumn.
---
In the News
Teesside is such a happy campus!
Herald & Post, 30/04/09, p.12
Teesside University has been rates the top place to be by international students after topping all four categories in the International Student Barometer.
---
You'll love it at uni
Evening Gazette (Teesside), 24/04/2009, p.15
Teesside University has been ranked top in all four categories of the International Student Barometer, which surveys the opinions of students from overseas at UK universities. The university had the h
---
Teesside University rated best in International Student Barometer
Gazette Live (Web), 24/04/2009
Teeside University has been voted the best university in a poll of international students in autumn 2008. The university topped the categories in overall satisfaction, support, learning and students s