Revolutionary media training and education launched
Media professionals will for the first time be able to earn a Master's degree by combining a flexible selection of professional development modules under the Build Your Own MA programme.
The revolutionary programme is being offered at the Teesside University Skillset Media Academy.
Skillset, the Sector Skills Council for the Creative Media Industries, has developed Build Your Own MA in partnership with ten Skillset Media Academies in England, including Teesside. This is in response to calls from government and industry to better align postgraduate education with the sector's strategic development needs. Build Your Own MA will offer more than 75 industry-approved professional development modules that can be done on their own, or joined together to earn a postgraduate Certificate, Diploma, or MA in Professional Media Practice. This means that media professionals who complete any Build Your Own MA module will have the option of then joining that with further modules to earn a meaningful postgraduate qualification. Those taking part can complete their own selection of eligible professional development modules in any combination, and from any mixture of Academies, while accruing credits towards their postgraduate certification. It is the fist time an educational model of this type has been offered in the UK. Skillset's research shows that postgraduate education is already highly valued in the creative media industries, with almost one third of the workforce possessing a postgraduate qualification. By breaking these qualifications down into single, industry-focused modules, the Build Your Own MA programme will make postgraduate education more accessible to those working in the industry, while ensuring they remain relevant to the practical skills needs in the sector. A revolution in postgraduate education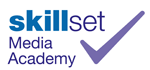 Skillset's chair, Clive Jones, said: 'Build Your Own MA represents a true revolution in postgraduate education that marries the best of continuing professional development with the lasting recognition of a postgraduate qualification. 'This is the first time that such a large group of universities have agreed to recognise each others' credits for an award. The Media Academies involved have shown that they are genuinely flexible in meeting the needs of a fast-changing industry while maintaining the integrity and rigour of their awards.' Warren Harrison, principal lecturer in Media Production at Teesside, added: 'To date, the Media section at Teesside University has provided short courses to over 300 media professionals and we are delighted to be working closely with Skillset on this innovative project to offer postgraduate courses to media professionals.' Pact, the trade association representing the commercial interests of independent feature film, television, digital, children's and animation media companies, has also thrown its support behind the project. Pact's chief executive, John McVay, said: 'Pact is very pleased to support this innovation. The opportunity for staff and freelancers working for independent producers to access a flexible network to maintain and develop their skills and get a recognised qualification is exactly what is needed at a time when money and time pressures are at their greatest.' Skillset's Media Academies are a UK-wide network of higher education institutions that have undergone rigorous assessment by professionals from within the creative media industries. They are centres of excellence that offer practical, industry-focused training to their students in order to best prepare them for entry into the workforce. Build Your Own MA has been developed as part of a three-year project funded by the Higher Education Funding Council for England (HEFCE).
A database of all of the eligible courses, as well as more information about how to Build Your Own MA, is available on the Skillset website.
For more details, contact Warren Harrison, Principal Lecturer in Media Production at Teesside University, on 01642 342376, or email w.harrison@tees.ac.uk.
---
In the News
Revolutionary media training and education launched
Media Newswire (Web), 09/06/2010
Skillset, the Sector Skills Council for the Creative Media Industries, has developed Build Your Own MA in partnership with ten Skillset Media Academies in England, including the Teesside University Sk