Celebrating 80 years
Teesside University is celebrating the 80th anniversary of the official opening of Constantine College.
More information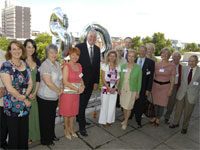 80th anniversary celebration
Vice-Chancellor Professor Graham Henderson, met representatives of alumni, honorary graduates and retired and current staff to toast the University's success over the last 80 years and cut an 80th anniversary cake.
Representatives of past students stretching back to the 1950s were there to share stories and memories from their days at Constantine College, Teesside Polytechnic and Teesside University.
The oldest graduate present was 85-year-old Richard Potter, who twice studied at Constantine College. The first time was in 1943 at the height of World War II when he worked towards an engineering cadetship for two-and-half years. He graduated for the first time in 1945, just as hostilities were coming to end, and did his National Service in Libya. Then he returned to the College five years later to top-up his earlier studies for a BSc, graduating for the second time in 1951.
'There was a great sense of comradeship. We were a tight little group and came from all over the country. We lodged in Middlesbrough and still keep in touch. In fact we had a 50th reunion at the Post House in 1993 and it was great to see the old faces.'
He was impressed at how the campus had grown and developed. And so was Hilary Willers, who came from Newport in South Wales to study mathematics at what was Teesside Polytechnic by the time she graduated in 1971.
'I was amazed that when I applied to what was Constantine College, the head of maths Bill Greig replied in person, offering me a place and asking me to come up for a visit,' said Hilary, who met her future husband, Phil, on the course.
'One of the most significant things for me was seeing Middlesbrough go through the transformation from a town built around heavy industry to become a university town," said Hilary, who went on to become a maths teacher at Egglescliffe School and watched the University grow and develop over the decades.
'What amazes me is how green the campus has become despite the new buildings. It is lovely to walk through and yet it is right in the town centre', she said.
Professor Joe Herbst was also there to represent retired staff. He built up an international reputation for Teesside as a world centre to studying Instrumentation and Control Engineering, became an Emeritus Professor on retiring and received an honorary degree for his work from the University in 2001.
'I was actually disappointed when it was announced the Polytechnic was to become a University but I think it is wonderful the way it has grown and developed without losing its commitment to giving greater opportunities to local people. There can't be a major petro-chemical plant anywhere in the world that doesn't have someone working there with a degree from Teesside.'
Among those attending the Vice-Chancellor's cake-cutting was Mary Butterwick, OBE, who received an honorary degree from the University in 1999 for her work in founding the Butterwick Hospice and Children's Hospice.
Also attending were Margaret Walters, who gained a BA Humanities in 1987 and now works as a course co-ordinator at Middlesbrough College, and Jonathan Bowden, a 1999 Business Administration graduate, who is a commissioning manager for the Safer Middlesbrough Partnership. (Jonathan took part in the recent staff v graduates football match at the Riverside Stadium organised by Teesside University's Alumni Association.) Representing the new millennium was Natalie Robinson, who has a number of qualifications from the University, including a degree in Criminology (2005). She recently set up her own online women's boutique, Prettyful Things, from her home in Norton. And Gill McKay, 57, who joined the College as it was just becoming Teesside Polytechnic in 1989 also attended. She has worked on the front reception of the University's main foyer for many years and seen generations of students come and go. I hope I have always been that friendly first face which students see when they arrive. It's been a wonderful job working here.'
Professor Henderson said: 'It was a privilege to talk to people from Teesside's proud past. We've come a long way since Joseph Constantine first dreamed of having a technical college in Middlesbrough and it is great to have reached our 80th anniversary at the same time as we are still celebrating being the Times Higher Education University of the Year.'
Leave your own birthday messages and memories on the University's website, watch a birthday video from students and staff and see photographs from the past at www.tees.ac.uk/80years .
You can also read a special 80th Anniversary supplement produced with the Evening Gazette 80th anniversary supplement
---
In the News
An 80 year learning curve
East Cleveland Herald & Post, 08/07/2010, p.4
The 80th anniversary of the official opening of Constantine College was celebrated by Teesside University, with alumni, honorary graduates and staff meeting with Vice-Chancellor Professor Graham Hende
---
An 80 year learning curve is celebrated
Herald & Post, 08/07/2010, p.4
Teesside University has celebrated the 80th anniversary of the official opening of Constantine College.
---
80 years old and still going strong
Evening Gazette (Teesside), 06/07/2010, p.19
In order to celebrate the 80th anniversary of Teesside University, the institution organised a homecoming event for former graduates as well as retired staff and various alumni.