Radio presenter and TV star to study at Teesside University
Actress and radio host Alex Hall will be introducing herself to the student lifestyle when she enrols at Teesside University.
More information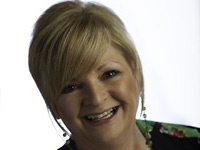 Alex Hall.
Brought up in Billingham, Alex has appeared in many popular soap operas such as Emmerdale, Coronation Street and Byker Grove.
Now, at the age of 63, Alex - who also appeared in Max and Paddy's Road to Nowhere and Prime Suspect - has decided to come to Teesside University to study BA (Hons) Performance for Live and Recorded Media as a mature student.
She said: 'Such an amazing course could take me to so many places, academia being just one.
'I can't wait to meet new people with varying experience and throw myself into acquiring all the knowledge I can. I know that other students might be a bit baffled as to why someone with such an extensive acting career should 'go back to school', but I know there is a lot to learn, and Teesside University is definitely the place for me.'
Due to Alex's family circumstances she never had the opportunity to study at degree level but after Teesside University was recommended to her by a friend, she was inspired to enrol on the course.
She added: 'There has always been a lingering regret that I didn't go on to higher education and I couldn't help feeling that despite life experience in the show business industry, there was still something missing.'
Many will remember Alex as the head teacher of Hotten Comprehensive, Jean Strickland from Emmerdale, whose character was killed after a hit and run involving a number of her students. However acting is not her only passion. She has also worked on TFM Radio, Magic 828 in Leeds and many BBC stations including Merseyside, York and Leeds where until 2006 she hosted the Late Night Phone In across BBC Yorkshire.
Alex currently hosts BBC Tees Songs from the Shows on Sundays, from 5.00pm, which gives her the chance to indulge in another of her passions, musical theatre.
Taking her career in a new direction Alex said: ''I have worked with many actors, directors and producers and interviewed many people in the industry. I've lived the life of an actor so I'm under no illusions as to the reality as well as the tremendous highs.
'As a largely self-taught performer, I'm sure I'll need to un-learn some habits too, and I believe that studying a degree with Teesside University will help me take my career in a new direction.
'I know that this course will improve my employment prospects but it will also take me down other avenues that I am keen to explore, such as directing and script writing.'
Due to Alex's vast experience in both radio and television, she will be able to enrol straight into the second year of the course.
Martin Pout, Assistant Dean (Recruitment and Widening Participation) in the School of Arts & Media at Teesside University, said he is very excited to welcome Alex to the University.
He added: 'Alex is an experienced actress and radio host and it is fantastic to have her here studying with us at Teesside. The Performance for Live and Recorded Media degree is a great degree to have, and with Alex's industry skills, I'm sure she will learn a great deal, but we can also learn from her.'
---
In the News
TV star's heading for uni
Evening Gazette, 22/09/2012, p.5
A TV star and radio host is returning to her Teesside roots to take on a student lifestyle at the age of 63. Alex Hall, who has appeared in soaps including Emmerdale, Coronation Street and Byker Grove