Graduate's global adventure on two wheels
Teesside University graduate Rob Lutter is on a global adventure cycling around the world raising charity funds.
More information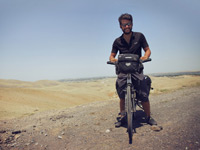 Rob set off from London to start his journey in 2011, taking with him just a cycle, a tent, a camera and iPhone. He is chronicling his travels through photographs taken along his amazing journey across four continents and 38 countries.
And after nearly two years on the road cycling over 9,000 miles, Rob is currently in Hong Kong where he is preparing to head for Australia.
Born in Oxford and raised in the Cotswolds, Rob graduated from Teesside University with a first class BA (Hons) Television Production degree in 2007. He said: 'It was at Teesside where I learned how to make films, write screenplays, produce documentaries and develop my storytelling skills.'
He went on to work for a London advertising agency before launching The LifeCycle, his first long-term photography project. His amazing journey was inspired while working in London and watching a documentary about a man from Scotland who had cycled around the world.
Rob said: 'I googled some images of bicycle roads across Ladakh in the Indian Himalayas and the first image I saw blew my mind. A few hours later I had picked up a guide to Adventure Cycle Touring from a local bookshop and in one afternoon it was confirmed, I was cycling around the world.'
He added: 'My dad, a former rock climber, took us to the Lake District most summers. I became fascinated by journeys and adventures, read endless books and developed an interest in films.'
Shortly after beginning his journey, Rob discovered popular photography sharing app Instagram and began chronicling his travels, sharing the stunning images he was capturing on camera.
Rob said: 'The support I've received from people around the world is incredible. Since adding images to Instagram, the messages of encouragement arrive almost every day and there have been times when I've cycled longer just to reach a town in an attempt to get some wi-fi to connect to Instagram.'
Through his intrepid journey Rob has already raised over £2,000 for Water Aid and is now currently fundraising for mental health charities OCDUK and MIND.
Rob's latest fundraising website
---
In the News
Chains around the world
Sunday Sun (Newcastle), 14/04/2013, p.29
He quit the rat race for life on the road armed with just a bicycle, a tent and a camera. Now, two years and 9,000 miles later, filmmaker Rob Lutter has cycled halfway around the world on a daring exp
---
Graduate cycles the world for charity
Northern Echo (Web), 08/04/2013; Northern Echo, 09/04/2013, p.13; Darlington & Stockton Times (Web), 08/04/2013; Love Middlesbrough (Web), 08/04/2013
Teesside University graduate Rob Lutter is on a global adventure cycling around the world raising charity funds. Mr Lutter studied in Middlesbrough until 2007, and set off from London to start his jou