Writing talent takes Anouska from Teesside to Hollywood
Best-selling author Jackie Collins has been sharing writing tips with a Teesside University graduate who is celebrating seeing her first novel in print.
More information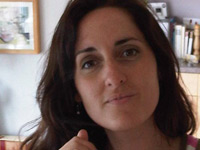 Anouska Knight
Anouska Knight, who graduated from Teesside University with an interior architecture and design degree in 2001, received star treatment in Hollywood where she met Jackie Collins after winning a Racy Reads competition on ITV daytime programme Lorraine.
After graduating from Teesside University, Anouska launched her career as an interior designer before setting up a bespoke creative cake shop in the Midlands.
Also a keen writer, Anouska had written short stories in the past while still running her cake business. But after entering the competition to win a publishing contract, Anouska is now forging a new career as a successful writer.
As well as the publishing contract, Anouska's prize included travelling to Hollywood to meet Jackie Collins and get mentoring advice.
Mum-of-two Anouska, 33, who is originally from Staffordshire, said: 'I only spotted the Racy Reads competition on Lorraine Kelly's television show by chance. I submitted a 1,000 word draft just a few days before the closing date.
'It was an amazing experience meeting Jackie Collins. We stayed on Rodeo Drive in Beverley Hills and met Jackie for lunch in Spago restaurant, where we spotted Mel Gibson and Stevie Wonder. She was really good fun and gave me lots of advice, telling me to write what I know. She's even tweeted me!'
Her competition winning book, Since You've Been Gone, has already been tipped as a best-seller. The novel, which is about a young widow who runs a cake shop, has been published through Mills & Boon.
Anouska, of Lichfield, said: 'They were only initially going to print a few thousand, but I've been told that they've already sold 25,000 and I've been commissioned to write two more books.'
Commenting on her career since graduating from Teesside University, Anouska said: 'It's all been very organic, as all of the jobs I've done have shared some creativity. Although I enjoyed interior design and the cake business, I started writing to seek more of a work life balance. Since entering the competition it's been crazy.
'I really enjoyed my time at Teesside University. I made some brilliant friends and the course leaders were fantastic, there was a real warmth around the place.'
Richard Sober, Teesside University Teaching Fellow and Principal Lecturer, Spatial Design, said: 'It's great to see Anouska have this success, as I was her programme leader at the time and tutor for her dissertation. Her success shows the amazing creativity, ambition and talent of our students as well as the value of transferable skills.'
---