Four decades of making history at Teesside University
Daniel Johnson never really expected to go into higher education – so he's delighted to be involved in a special celebration marking 40 years of history teaching at Teesside University.
More information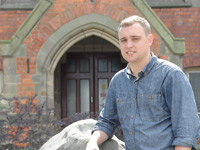 Daniel Johnson, who studied History at Teesside University
He was diagnosed with Attention Deficit Hyperactivity Disorder (ADHD) in 1997, but overcame the odds to continue his studies and graduates this year with a BA (Hons) History.
Daniel, 22, who currently works in Stockton North MP Alex Cunningham's office and hopes to pursue a career in politics, said: 'It's fair to say most of my teachers never expected me to go to college, let alone graduate from university. For me it has been a real achievement and a life ambition fulfilled.'
He added: 'I studied business at college, but I always liked history so wanted to study it as a degree. I really enjoy history and feel it is important, as we must learn from the past to be able to build a better future. It's only through studying historical events which shaped the world, that this can be done.'
Daniel, who stood as a candidate in local elections two years ago and is a governor at Stockton Riverside College, added: 'I chose Teesside University as it is a good institution and it worked well for me to remain local because of my political interests. The course has helped with my career plan, as it has given me the necessary skills to pursue a political career.
'I enjoyed the opportunity to make lifelong friends, while the skills I've learned from both the course and university life will always remain with me. Teesside is a great place to live and study. The history degree is five-star with dedicated staff who do all that they can to support and challenge you.'
Daniel is among many students who have forged a diverse range of career paths after studying history at Teesside University. And to celebrate four decades of history at Teesside, a celebratory event will take place on Saturday 28 September.
The celebration also pays tribute to Professor Tony Pollard, described as the 'founding father' of the institution's history department. Professor Pollard is a leading authority on Late Medieval history, specialising in North-Eastern England during the War of the Roses.
Although retired from the University, he retains links as Emeritus Professor and is a member of the University's Centre for Regional and Local Historical Research.
Margaret Hems, one of Tony's former students and now Head of History at Teesside University, said: 'It's both a celebration of the success of history as a subject at Teesside University and a perfect opportunity to celebrate the career of Professor Tony Pollard, who played a fundamental role in establishing history as a degree subject at Teesside.
'Since 1973, history provision at Teesside has gone from strength to strength. History is one of the high profile research units within the University, with a well established reputation for research excellence and scholarship.
'The research profile which Professor Pollard led during his long career at Teesside has a recognised and international reputation. In addition, the high quality of the taught history degree programmes has gained an excellent reputation since it was established 40 years ago. The department has gained consistently high student satisfaction rates in the National Student Survey, achieving 100 percent in recent years.'
Margaret added: 'Thousands of students have benefited from studying at Teesside and have gone on to have successful careers.
'There will be many graduates who Professor Pollard worked with, who will want to join us to celebrate. We have invited all former history students who are members of the alumni but would like to extend the invitation to those history graduates who we have lost touch with.'
Former Teesside history graduates wanting to attend the celebration at the University on Saturday 28 September can contact Francesca Angus on 01642 234019 or email arts@tees.ac.uk
---
In the News
Celebrating decades of history for uni professor
Evening Gazette (Teesside), 22/08/2013
The work of Professor Tony Pollard will be marked by an event recognising his hard work and four decades at Teesside University.