From the race track to the lecture theatre for Jade Jones
Fresh from representing England at the Commonwealth Games, Paralympian athlete Jade Jones has embarked on her latest challenge – a law degree at Teesside University.
More information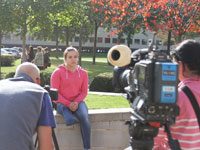 Jade Jones being interviewed for Transworld Sport.
For Jade, combining a gruelling training regime with academic study is something she is ready to embrace.
In fact during her first week on campus she was filmed for a feature on Channel 4's Transworld Sport, which is set to be aired on Wednesday 5 November.
She said: 'Ever since being young I have been interested in law and would always tell people I wanted to be a lawyer when I grew up.
'Studying law at Teesside just seemed like a natural step. It is a fantastic university and I am really looking forward to the next three years.'
Former Ormesby School pupil Jade represented Great Britain at London 2012 and clinched a bronze medal in the 2014 Commonwealth Games in Glasgow. She is currently training for the 2016 Paralympics in Rio and looking even further ahead to the 2020 Paralympics to be staged in Tokyo.
Jade, who was born without a femur in her right leg and had her foot amputated when she was 10, is on the elite athlete scheme at Teesside University. The scheme provides student athletes with comprehensive support to help develop their individual sporting potential, including sports science, strength and conditioning and physiotherapy support.
In addition, Jade, 18, is able to use the University's specialist environmental chamber, which recreates exact climate conditions and allows her to race in the same sweltering heat she can expect to face in Rio.
'The facilities at Teesside University are incredible and the sports science support and strength and conditioning training are going to give me a real edge as I prepare for Rio,' explained Jade.
'I have also been offered flexible study which is invaluable as I am often away competing. The support that has been given to me, both academically and in terms of my racing, is fantastic.'
Jade was originally encouraged to give wheelchair racing a try when she met 11 time Paralympic gold medallist Baroness Tanni Grey-Thompson and her husband Ian, at a sports development day. With the guidance of Tanni and Ian, who is her coach, Jade began to take to racing and developed a natural flair which led her all the way to the London Paralympics.
'For me, making the team was an unbelievable achievement,' said Jade.
'I remember when they announced my name in the stadium and because I was British, 80,000 people started cheering – that was really scary, but I just had to remember they were here to support me. I have had to work hard at dealing with pressure and I think the experience at London 2012 has helped me and enabled me to get among the medals at the Commonwealth Games.'
Jade trains twice a day, six days a week and is hoping all the hard work will pay off when she gets to Rio. Baroness Grey-Thompson, who knows all about competing at the highest level, certainly has faith in Jade.
She said: 'I don't want to put her under too much pressure but she is already going quicker than I was and she has the ability to achieve whatever she wants to.
'The main thing is that she enjoys it and she really is a pleasure to work with. Being at Teesside University is absolutely the right place for Jade. She has all the facilities and support she needs and will have a degree to her name as well which is extremely important for when her racing career is over.'
Dr Mark Simpson, Dean of the University's School of Social Sciences, Business & Law, added: 'Teesside University has a lot of experience of working with top-class athletes. If we can help Jade to build on the incredible success she has already achieved then that is great for everybody involved.'
Jade Jones' feature on Transworld Sport will be shown on Channel 4 in the early hours of Wednesday 5 November.
---
In the News
Jade sets her sights on the law
Evening Gazette, 29/10/2014; Gazette Live - Online, 29/10/2014; The Northern Echo, 31/10/2014
Jade Jones has embarked on a challenging of a different kind - a law degree at Teesside University.