Graduation gown brings special memories for Jill
Graduation will be extra special for Jill Featherstone as she will be wearing the very gown her late mum wore to collect her own academic award.
More information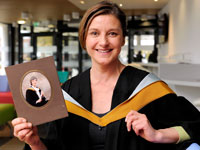 Jill Featherstone holding a photograph of her mum wearing the same graduation gown
When Jill graduates this month from Teesside University's School of Health & Social Care with a First Class BSc (Hons) Integrated Service Improvement, she will be wearing the gown her mum Joan Wright bought 30 years ago for her own ceremony.
Sadly Joan, who retired from her job at Teesside University due to illness, lost her battle with breast cancer 16 years ago at the age of 56.
Jill, of Bedale, said: 'Mum worked in various roles at the University and at the time of her retirement she was working as a legal executive. One of her roles had been to ensure students attending their graduation award ceremonies were kitted out with gowns, hoods and caps.
'She herself had studied at Teesside University when it was Teesside Polytechnic and gained her degree. At the time she had opted to buy her graduation gown, with the idea that it was something which could be passed down to those achieving a degree in her own family.
'Mum had achieved her degree whilst a single parent of three teenagers and working full time, which was a much less frequent occurrence than now. It was tough for her.'
Jill added: 'She died far too early at 56, having only just met my first child and my sister Angela's first child, Ben and Isobel, her first grandchildren.
'It's been tough for us too, but I was determined to achieve my degree being so proud of my mum, her struggles, and what she hoped we would achieve too. So when I discovered I had achieved a First it was really quite emotional.'
A special touch was added when Jill's sister Angela recently presented her with their mum's graduation gown and hood. Both Angela and their brother John wore the gown at their own graduation ceremonies, but as Jill had opted go straight into a career in nursing she had not previously studied at degree level.
'We were at my sister's celebrating my success when she brought out the gown and hood, which I had completely forgotten we had. I will be wearing it with immense pride and it seems fitting that its first outing for so many years will be with me, for my first class degree back at Teesside University.'
Ben and Isobel are now both 16 and have just started their A-levels. Jill added: 'Mum would have been so proud and hopeful too that they will wear this gown as part of her enduring legacy.'
Jill, who works as a specialist nurse at James Cook University Hospital, added: 'Mum's last job was as a legal executive at Teesside University, which she had to retire from due to her cancer in 1998. When she died in July 1999, a lot of University colleagues came to her funeral at East Cowton, near Northallerton.'
---
In the News
Graduation gown brings special memories for Jill
North Yorkshire News, 25/11/2015
Graduation will be extra special for Jill Featherstone as she will be wearing the very gown her late mum wore to collect her own academic award.