Lisa turns the tide to a new career through study at Teesside
Lisa Keenan went against the tide by leaving her job as a cruise ship croupier to return to education and study crime and investigation.
More information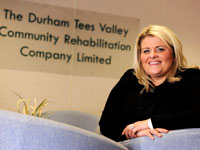 Now graduating with a First Class BSc (Hons) Crime and Investigation, mature student Lisa, 38, of Darlington, has a new role as a Community Justice Co-ordinator for Durham Tees Valley Community Rehabilitation Company. Lisa was four months pregnant when stating her degree, but managed to complete all of her first year assignments in advance before the arrival of daughter Tilly, now aged two. She said: 'I was determined to succeed no matter what.' Having started work in casinos when younger, Lisa later moved across to work on cruise ships, but it was past and personal experience of knowing people who had served time in prison which proved to be the impetus which led her to change career. She said: 'I had always wanted to work within the criminal justice area, helping people, but I had the opportunity to travel with work when I was younger, so I went with that. I eventually decided to change career as it had always been in the back of my mind to do it.' Having returned to education, Lisa got involved in volunteering while studying towards the degree, completing volunteer placements involved in victim support and offender management. She was also part of a pilot scheme in Crook supporting the bereaved through Coroner's inquests. Lisa added: 'I joined the Darlington Neighbourhood Resolution Team as a restorative facilitator and mediator during the third year of my degree and gained a Level 3 OCN in implementing a restorative approach in my final year. "My current role involves developing social action projects for offenders and those in recovery to help them desist from crime by 'Making Good by Giving Back'.'
She added: 'I enjoyed the degree at Teesside especially as all of the lecturers are practitioners so have actively been involved in what they are teaching. They also have a lot of links within the industry, which helps with employability and finding placements to gain vital experience while still a student.'
Lisa's dissertation focused on little-known psychological disorder Hybristophilia and the phenomenon of women who are attracted to criminals. Part of her research involved work with a professor in Texas.
'Much of my research was non-academic, which was a challenge in itself. My research has motivated me to continue to further study and explore it at postgraduate level and have this as my field of expertise.'
---