Graduation's a family affair
Mother and daughter Ann and Bethany Thomas from Redcar are sharing academic success after studying at the University's School of Health & Social Care.
More information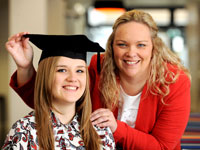 Ann graduates from the MSc Advanced Clinical Practice, while Bethany has completed the Advanced Diploma in Nursing Studies (Learning Disabilities).
Studying at Teesside is nothing new for Ann, who previously graduated from the BSc (Hons) Nursing and a few years prior completed RGN (Registered General Nurse) qualifications which were accredited by the University.
Ann works as a Modern Matron in forensic services at Roseberry Park in Middlesbrough, which provides services and care for patients with mental health problems and learning disabilities.
Mum-of-three Ann, of Redcar, said: 'The master's has equipped me with essential analytical skills needed in reviewing evidence based practice and implementation. The course helped with looking at the processes involved in managing change and reviewing evidence.'
She added: 'When I completed the degree I was in a role working shifts, which made it a little easier to juggle study around work, but while completing the master's, I moved into two different job roles, mainly working 9.00am to 5.00pm so it was tough trying to combine work with study.'
Due to Ann's changing job roles during the master's she had to complete one of the modules through distance learning.
She added: 'I'd say to anyone thinking of studying a master's while working full-time to think about what it involves and to be prepared, while also ensuring the support will be there from your employer too.'
Bethany, 21, also from Redcar, is working as a staff nurse at Roseberry Park. She said of her course: 'The work I'm involved in is about managing risk and I feel the course really helped to prepare me for the role I'm now doing. The study was really tailored to the job I wanted to do.
'The placements I completed while studying were vital in providing essential experience, enabling us to immediately put into practice what we were learning. One of the placements I did was at Roseberry Park, which really helped to provide insight into what the work involves.'
Bethany added: 'I was initially thinking about studying media while doing my A-levels, but after looking at the NHS website and finding the role I wanted to do, it was great to be able to study towards it at Teesside. I'm now hoping to continue study while working in nursing, with the aim of progressing to master's level.'
---