Emma's return to education leads to new career path
A career break led Emma Peacock on a new career path into forensic research.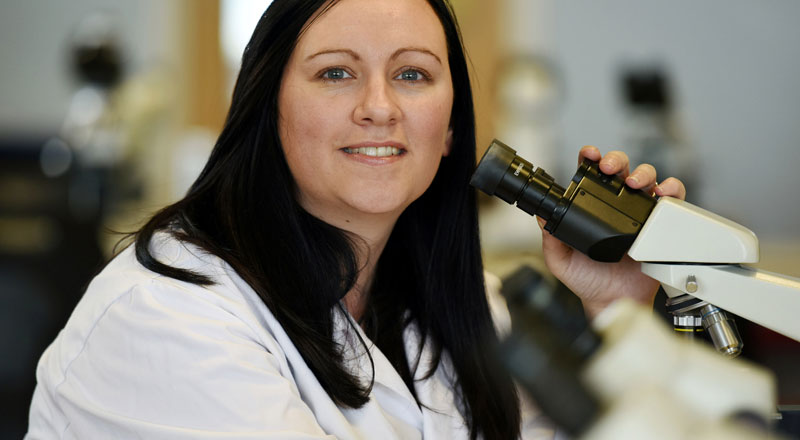 Emma, 34, from Redcar, is graduating from the BSc (Hons) Forensic Science.
Having previously worked in engineering as a draftsperson, Emma took a career break to raise her three children. Once she was ready to return to work, Teesside University helped her to change direction.
Emma, who took the extended route and completed a foundation year before beginning the degree, said: 'I would highly recommend doing it this way, as it helps you to understand what is expected at University and get into degree mode before you start your course.'
She added: 'I looked at all the forensic courses across the North East and came in to talk to an advisor at Teesside University. I liked the sound of the modules and felt very welcomed. I also attended an open day, which was what finally made up my mind, meeting the staff and seeing the facilities.
'I had a very positive experience as a mature student. I was 30 when I started and I thought I might struggle to develop relationships with the younger students, but that couldn't be further from the truth as I have made some lasting friendships. I also thought that having a family and young children might limit me, but if you organise yourself then it is not a problem. If I can do it, anyone can.'
She added: 'My overall experience of Teesside was extremely positive. The organisation and content of my course was outstanding and the staff were fantastic.
"I enjoyed my third year project and Wellcome Trust scholarship and research placement in the summer. This allowed me to become involved in research into illicit drugs in wastewater which was subsequently featured in the news. It also allowed me to work with Dr Gillian Taylor who is an exceptionally brilliant lady.
'My course has helped me to gain the scientific knowledge to succeed in science and there are lots of brilliant schemes to develop personal skills, such as volunteering through Voluntees or as a student researcher.'
Emma added: 'My advice would be to research things like scholarships, as there are funds which you can access to develop yourself and provide you with additional experience in the labs.
'In the future I would love to do research or perhaps work in the testing of pharmaceuticals. I love lab work - as long as I am in a lab I will be happy.'
---
---
---
In the News
Return to education leads to new career
Northern Echo(North Edition)18.07.16, Evening Gazette (Teesside)18.07.16,
BSc (Hons) Forensic Science Graduate Emma Peacock having previously worked in engineering took a career break. Teesside University helped her to change direction one returning back to work.