Friend's treatment inspires social work career
A student who was inspired to pursue a career in social work after witnessing the invaluable treatment received by a friend is graduating from Teesside University this week.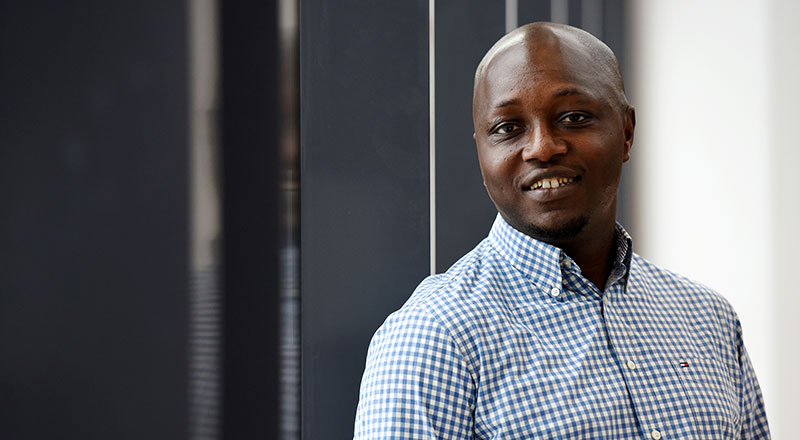 Ade Ayodele was set to pursue a career in finance after receiving an undergraduate degree in Economics.
However, as he neared the end of his undergraduate studies, one of his friends developed mental health issues which necessitated the intervention of social workers.
After witnessing first-hand the vital role that social workers played in his friend's treatment and subsequent recovery, Ade decided to change his career path and began studying an MA Social Work at Teesside University.
Ade, who is originally from Lagos, Nigeria, and now lives in Ferryhill, County Durham, has landed a job working as an adult social worker at Sunderland City Council.
Ade chose to study at Teesside after researching the amount of support he would receive as well as the facilities available to students. The placements that were on offer to social work students was also one of the factors influencing his decision and, as part of his degree, Ade spent time working with Adult Services at Stockton-on-Tees Borough Council and Children's Services at Durham County Council.
He said: 'When my friend developed mental health issues I saw the impact that social workers made to him.
The support he got from his social workers brought him back to the friend I knew. Money can't buy that.
'I was inspired by how they supported him and led him through his recovery and I realised that was what I wanted to do.
'Because I thought I needed a good understanding of social work, I thought the MA route would be the best way.
'I knew that I would be looking after people who were very vulnerable so I wanted a good understanding of what was involved and the MA has given me that really good foundation.
'The University was a really friendly place to study and I've enjoyed my time here. The academic staff, particularly the programme leaders, have all been very supportive.'
While Ade acknowledges that a career in finance may have been more lucrative, he has no regrets about making the choice to be a social worker.
'I think it's about the emotional reward that you get from it,' he said. 'For me, I saw my friend go from a lovely, bubbly person, full of hope, to someone from whom all hope had been dashed.
'The support he got from his social workers brought him back to the friend I knew. Money can't buy that.'
---