Home ›
Student dental facility
Student dental facility
Free dental treatment from student dental hygienists and therapists.
BSc (Hons) Dental Hygiene and Dental Therapy degree students offer free dental treatments to Teesside University staff and students as well as the wider community within the Tees Valley area.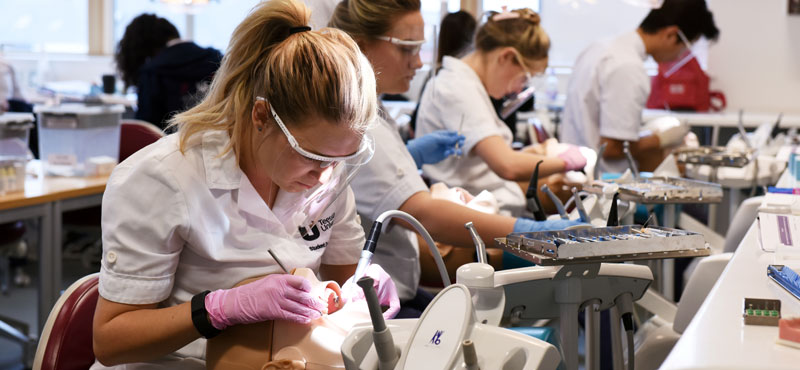 Ethos
The ethos of the dental hygiene and dental therapy degree course is a focus on holistic oral care and disease prevention. The student dental facility within Teesside University offers a wide range of dental treatments including oral hygiene and dietary advice, routine scale and polish, and extensive periodontal treatments. We also provide a variety of restorative and preventive treatments for adults and children, utilising gold standard, evidence based clinical practice. The student dental facility is Care Quality Commission approved.
Location
We are based on the first floor in the School of Health & Social Care, Centuria South (HS1.15).
Access
You must be registered with a dentist to access the student dental facility as treatments can only be provided under referral from an external dental practitioner; and there is no charge for patients treated by a student dental hygienist and dental therapist. Referral forms can be downloaded from the link below and passed on to your dentist for completion. When providing treatments, students are supervised at all times by Teesside University clinical lecturers - who are all General Dental Council-registered clinicians.
We hope you find the convenience of using a dental service on campus a positive addition to University life, alongside enabling our dental hygiene and dental therapy students to gain a valuable and comprehensive clinical experience.
More information
To find out more contact: