Nieve powers on to success from marketing degree
Nieve Morrison went from creating marketing plans for a national bakery chain during her Teesside University degree, to a new role which has already seen her working with international pop stars.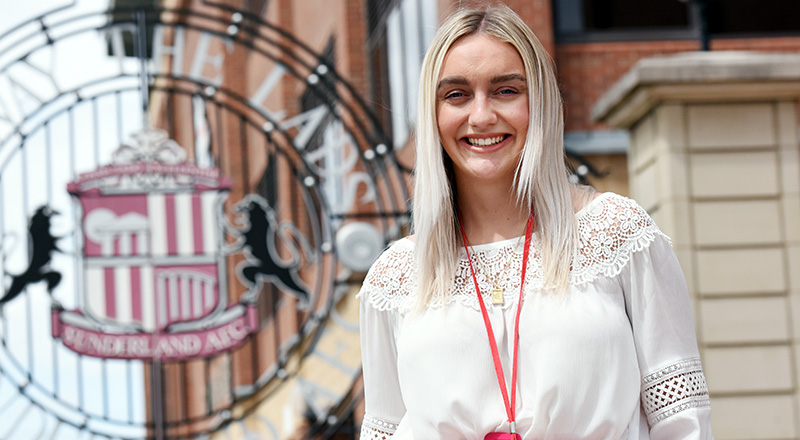 Nieve will join thousands of graduates celebrating success at Teesside University's annual academic awards ceremonies, which take place from Monday 17 July to Friday 21 July.
Nieve, 22, from Stockton, who graduates from the BA (Hons) Marketing, is a major events and project co-ordinator at Sunderland AFC. In the first few months of her job she was involved in the behind-the-scenes organisation of major music concerts by pop megastars Beyonce and Pink.
During her degree studies at Teesside University International Business School, Nieve spent time on placement with Resolution Media and Publishing and spent over a year as the marketing officer for the Power of Women (POW) campaign, which is dedicated to raising the aspirations of young women across the Tees Valley.
Nieve said: "I chose to study marketing as I've always enjoyed English and wanted to combine this with something creative.
"I'd initially started a degree at a university away from our region, but within a few weeks I realised that I didn't like it and transferred to Teesside University, in my hometown.
"I had some amazing lecturers who really helped me during the degree and made me think about the career path I wanted to take. I also received support in arranging a placement. I couldn't have asked for a better experience.
I couldn't have asked for a better experience.
"The University's facilities are great, especially the library. It is a great space which I found to be extremely helpful in the lead up to deadlines.
"One major highlight during my degree was presenting to Greggs and developing a marketing plan for their business. I really enjoyed working on the live projects, especially with Greggs. I had the chance to present an idea to their marketing team which was an amazing experience. I also enjoyed being involved in the University's Marketing Clinic, where we got to work with live clients as marketing consultants to local businesses.
"Another highlight was completing a placement with Resolution Media and Publishing, and working on the Power of Women campaign, working as their marketing officer for 18 months before moving to my new job.
"Since starting my new role as a major events and project coordinator at Sunderland AFC, I've worked on concerts such as Beyonce and Pink and I am really enjoying it. I would say to anyone thinking of applying to Teesside to definitely do it."
---