Celebrating graduation at Teesside University
Two students from Myanmar were among graduates who crossed the stage to celebrate academic achievement during Teesside University's annual graduation ceremonies.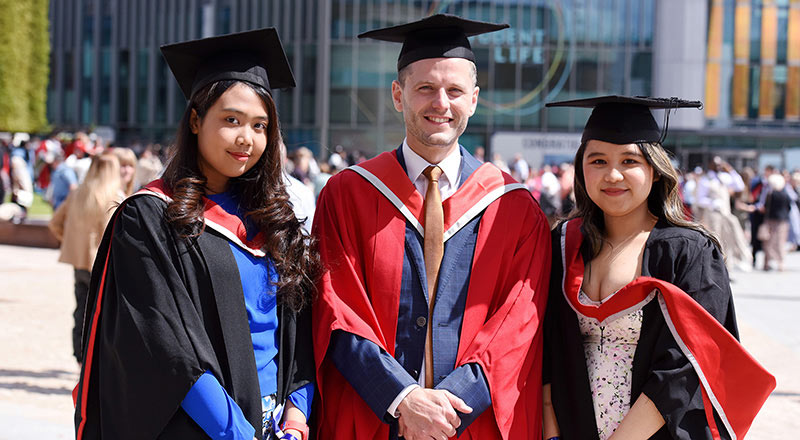 Khin Yadana Su and Khin La Yaung both completed the BA (Hons) International Business at Kaplan Myanmar University College in Southeast Asia, as part of an international partnership with Teesside University.
The partnership enabled students to enrol on the Teesside University degree, delivered at the Kaplan Myanmar University College campus. The students were aligned to Teesside University International Business School.
Khin Yadana Su, who is now completing postgraduate studies in Edinburgh, said: "I was delighted to be able to come along to the Teesside University graduation ceremony.
"We completed our studies during the pandemic so much of it was done online, with only some face-to-face contact.
"My experience of the academics was that they were all very supportive and patient. I really enjoyed too that we had a small cohort of students. This is the first time I have visited the Teesside campus. It's a huge campus and from what I have seen, there is a lot of facilities for students."
Khin La Yaung, who is teaching maths at a primary school in Myanmar, said: "I really enjoyed completing my studies and wanted to travel to Teesside today to have the opportunity to attend a graduation ceremony."
Jonny Munby, Principal Lecturer (International), Teesside University International Business School, said: "We're delighted to have been able to welcome students who gained a Teesside University qualification while studying in their home country."
Gemma Reed, Partnership and Project Manager in Student Learning & Academic Registry, said: "We invited a number of TNE (transnational education) students who completed Teesside University degrees at Kaplan along to this year's ceremonies under exceptional circumstances as the partnership has now come to an end.
"We wanted to provide them with an opportunity to celebrate their success with us. It was fantastic that two students were able to make this journey."
---