Channel 4 executive highlights the importance of diversity and inclusion at Teesside University Business Exchange
Business leaders, practitioners and funding bodies were invited to hear from Channel 4's Head of Creative Diversity at the latest Teesside University Business Exchange event.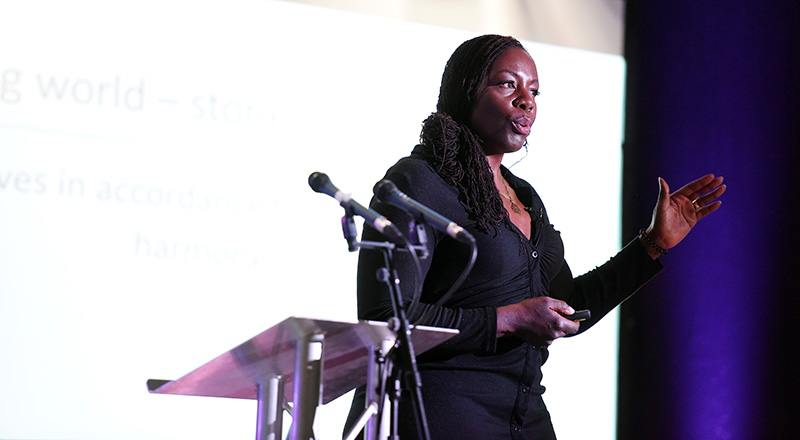 Teesside University's Business Exchange event brings together industry professionals, business leaders, academics and experts to explore challenges, trends and opportunities within business.
As keynote speaker, Naomi Sesay, Head of Creative Diversity at Channel 4, shared insight into inclusive leadership and the importance of a truly diverse workforce.
Speaking to the audience about how diversity can facilitate innovation, she said: "You cannot innovate in a homogenous world."
Naomi is a public speaker and author of The Human Upgrade: The Power to Create Your Future. She is also working on building a smart city and developing the Makoya Agribusiness School for Girls in Sierra Leone.
She added: "We must change and evolve. We must get away from the old systems that had discrimination built in. We've got to break those and make new ones.
"It is the people who are in leadership now who can do that. They have the power to do that, and that's why it's so important that business leaders understand what diversity is, understand inclusion and are able to usher in the new leaders of the next generation in a more equitable space.
"It's really important to be inclusive and diverse because innovation is at that sweet spot where people with different expertise, different skillsets, different ideas, different backgrounds and ethnicities are able to feed in."
Naomi also shared advice for individuals, reflecting on how audiences could overcome barriers put in place by others and themselves.
You cannot innovate in a homogenous world.

The Business Exchange was organised as part of the annual Knowledge Transfer Partnership (KTP) Practitioners Conference held by Teesside University and supported by Innovate UK.
KTPs are three-way collaborations between businesses, universities and graduates. They enable businesses with innovative ideas to work with partners who have the expertise and resources needed to bring those plans to fruition.
Teesside University has embarked upon a number of successful KTPs over the years, including a project which saw academics help Quorn Foods to improve the sustainability and quality of its protein.
The KTP Practitioners Conference provided networking opportunities and workshops for over 150 delegates from across the UK who are looking to develop their KTP portfolios, as well as international delegates from Sweden.
Claire Adams, Knowledge Transfer Partnership Manager at Teesside University, said: "We were pleased to organise this Business Exchange event as part of the prestigious KTP Practitioners Conference to bring business leaders, industry experts and academics together.
"Teesside University has long worked together with business in order to promote growth within the regions, and we are delighted that we were able to highlight the importance of this kind of collaboration through this conference."
The Business Exchange event took place at Middlesbrough Town Hall on Friday 21 April as part of the KTP Practitioners Conference 2023.
---