Senior lecturer wins Italian Embassy research award
A senior lecturer in Teesside University's School of Computing has been rewarded for his cancer research project as part of the 'Italy Made Me' Awards, run by the Italian Embassy in London.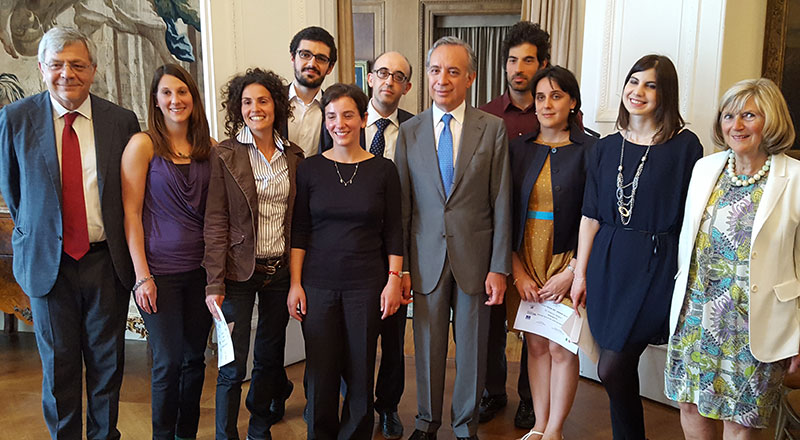 Dr Claudio Angione was awarded best project within the physical and engineering sciences category. He submitted a paper investigating the generation of patient-specific mathematical models of cell metabolism for different types and stages of breast cancer.
He was chosen as the winner based on the quality and significance of his research and was presented with it at a ceremony at the Embassy in July 2016.
Senior lecturer in computer science, Dr Claudio said, 'I am extremely happy to receive the award. It is an encouragement to keep working in this fascinating research field. There has been a lot of attention across multiple research areas about genes and gene expression. Most predictions have been made solely based on the value of expression of these genes – overlooking the fact that a highly expressed gene might have a very limited role in the cell, while a minor change in a lowly expressed gene might result in a much more noticeable effect.
'Mathematical modelling of cell metabolism predicts the actual effect that genes have on the observable characteristics or traits of bacterial and human cells. Applications include overproduction of strategic compounds in the bio-pharmaceutical industry, and predictions of cancer proliferation in a variety of environmental and clinical conditions.'
The 'Italy Made Me' Awards celebrate young Italian researchers living and working in the UK who have received part of their education in Italy. The initiative is coordinated in collaboration with Il Circolo, Association of Italian Scientists in the UK and Italian Consulate General.
Read Claudio's submitted research projects here: C. Angione, M. Conway, and P. Lió, 'Multiplex methods provide effective integration of multi-omic data in genome-scale models', BMC Bioinformatics, 17:83, 2016 www.nature.com/articles/srep15147
C. Angione and P. Lió, "Predictive analytics of environmental adaptability in multi-omic network models", Nature Scientific Reports, 5:15147, 2015 bmcbioinformatics.biomedcentral.com/articles/10.1186/s12859-016-0912-1
Claudio joined Teesside University in 2015 as a senior lecturer in computer science. His research interests are at the intersection of computer science, mathematics and biology. They include systems biology of genome-scale models, cancer metabolism, machine learning, multi-objective optimisation, computation with molecular Turing machines, and statistical-physical approaches in satisfiability problems.
Photo credit: Courtesy of italoeuropeo.com magazine in London.
---