Academic recognised for life-saving actions
A Teesside University academic was among individuals recognised by the Royal Humane Society for their actions which helped to save a man's life.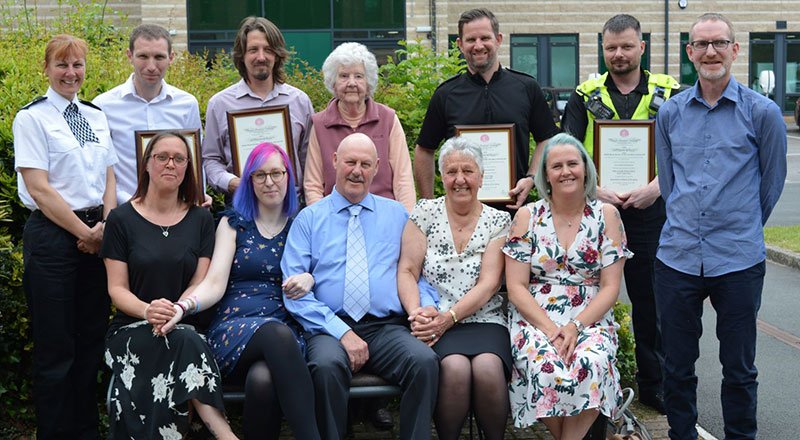 School of Health & Social Care Senior Lecturer in Adult Nursing Matthew Van Loo, along with North Yorkshire Police Inspector Jon Grainge, PC Michael Wilson, PC Lisa Jones and member of the public Lee Read have received Royal Humane Society Awards for emergency CPR which saved a man's life.
Off duty Inspector Grainge was travelling to visit family when he spotted Mr King collapsed and receiving CPR.
He said: 'I saw Mr King laid on a patch of grass with a group of people gathered round and a member of the public performing CPR. It turned out that this was Matthew Van Loo, an experienced cardiac nurse who had also been driving past. I quickly parked up and went over to help, continuing with CPR.
'Matthew and I continued CPR and were soon joined by Constables Michael Wilson and Lisa Jones. A passing cyclist, Lee Read, was then able to travel the 500 metres or so to the nearest community defibrillator which we successfully used and by this time, the paramedics had arrived.'
Mr King was quickly transported by ambulance to James Cook Hospital where he made a full recovery. The hospital medical staff said if the patient had not received the prompt treatment from those giving CPR, along with the use of the community defibrillator, then he would not have survived.
Those involved have now received Royal Humane Society awards from North Yorkshire Police Chief Constable, Lisa Winward.
Matthew Van Loo said: 'This was absolutely a case of the right people being in the right place at the right time. The fact that Lee was able to quickly locate and collect the community defib made a huge difference as in a situation like this the chance of survival drops by 10 per cent every minute.'
Andrew Chapman, Secretary of the Royal Humane Society praised the individuals. He said: 'To say that Matthew Van Loo was the right person in the right place at the right time is an understatement. You can't do better than to have an experienced cardiac nurse on hand if you have the misfortune to suffer a heart attack.
'Everyone involved in this played a major role in bringing Mr King back from the brink of death. They all richly deserve the awards.'
North Yorkshire Police Chief Constable, Lisa Winward. She said: 'We are incredibly proud of the actions taken by our officers and members of the public which resulted in Mr King's life being saved and would like to praise everyone involved.
'The fact that a defibrillator was available nearby goes to show how vital these resources are to local communities and how important it is to support fundraising for them in your area. I would encourage everyone to find out where your nearest defibrillator is located as you never know when this information might save someone's life.'
---