Change of direction provides the right career route for Simon
With a new job and a new baby on the way it is a busy time for Simon Gaffney, who graduates today with a BSc (Hons) Physiotherapy.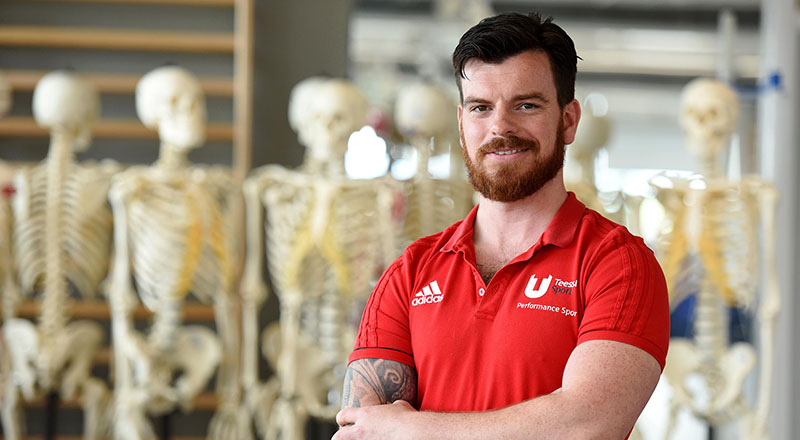 Simon, 33, spent 12 years working in corporate communications before deciding to retrain as a physiotherapist as he wanted to make a difference to people's lives.
Teesside University provided the perfect platform and Simon was able to utilise the expertise of the staff, as well as the internship opportunities, to make the most of his degree course.
During his second and third year, he worked alongside qualified physiotherapists and strength and conditioning coaches at Teesside Girls' Regional Talent Club.
And since graduating, Simon has started work as a Rotational Physiotherapist at Newcastle Hospitals NHS Foundation Trust where he will spend six months at a time in different clinical areas covering cardiorespiratory, neurological and musculoskeletal before deciding where to specialise.
Simon certainly made an impression on his lecturers during his time at Teesside as he was nominated to be one of the valedictory speakers during his graduation ceremony.
'It was an honour to be asked and it provides an opportunity to celebrate and highlight the achievement of all of the graduates and the fantastic opportunities which the University provides,' explained Simon.
It will be a proud day for me and my family
'It will be a proud day for me and my family, and I am honoured to be representing my course and my academic school.'
Simon has a three-year-old daughter and is about to become a father for the second time.
He has no regrets about his decision to change careers and enrol at Teesside as a mature student.
'It wasn't an easy choice, but it was certainly the right thing to do and I have learnt a great deal.' said Simon.
'I enjoyed working in corporate communications, but I wanted to do something that made a real difference to people. I wanted to work in an area where job satisfaction comes from more than just a pay cheque at the end of the month.
'Physiotherapy appealed to me as I have always had an interest in health exercise. The whole experience at Teesside University was fantastic and you get an awful lot of support and advice from the lecturers.
'It certainly provided an excellent platform for me to start my new profession and I am looking forward to progressing my career from here.'
---