Career change provides fresh opportunities for Dom
For Dom Gilchrist, graduating from Teesside University fulfils a life goal and allows him to pursue a career in a subject he has always been passionate about.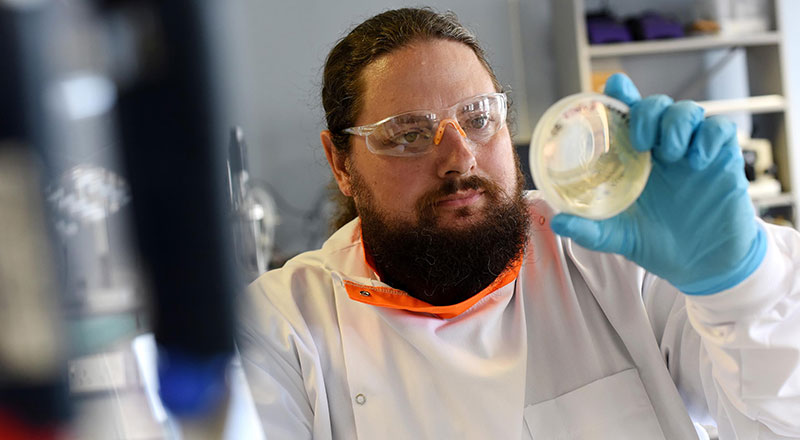 The 37-year-old graduates today with a First Class BSc (Hons) Biological Sciences after returning to education later in life.
Dom will continue his studies at Teesside, having been accepted to pursue a PhD in Molecular Biology.
Originally from Middlesbrough, Dom decided to enrol at Teesside University after working in the retail and leisure industries.
He said: 'I have always been interested in science and the degree course was so varied, it provided an overview of a wide range of different areas – ecology, evolution, human disease and infection.
'The tutors were extremely knowledgeable and supportive and they certainly helped me back into education and to progress.'
Dom is in the enviable position of being able to pursue a PhD straight from his undergraduate course and he has also been selected as one of the valedictory speakers at his graduation.
The tutors were extremely knowledgeable and supportive
'I was recommended by one of my tutors and it was a great surprise and a huge honour,' explained Dom.
'It will be a really proud moment to be able to talk about my experiences of Teesside University and how the university has helped me.'
Dom ultimately wants a career in scientific research and is looking forward to starting his PhD helping that dream become a reality.
He added: 'The research will be more structured and enable me to push the boundaries and discover something new about science to benefit others.
'Coming to Teesside University was definitely the right decision and it has worked out perfectly.
'Graduating has been a life goal and to be able to do it here – being from Middlesbrough and seeing how the University has grown – is an honour.'
---