Students share playtesting experience
Teesside University students helped video games publisher and developer Double Eleven playtest popular survival game Rust, ahead of the game's unveiling at Microsoft's flagship event X019.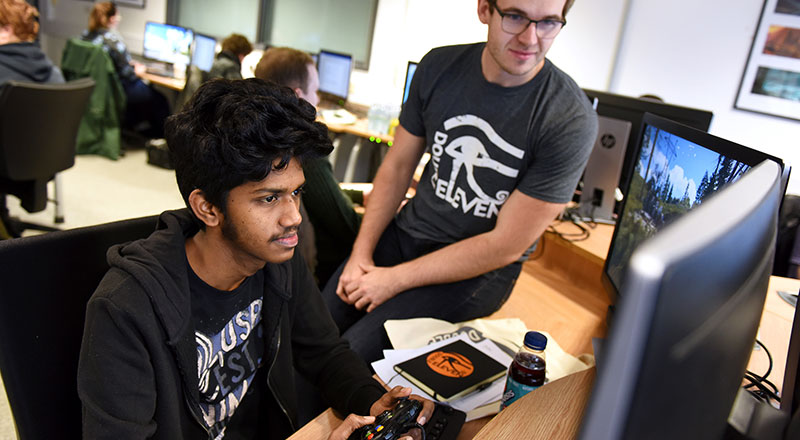 Rust is one of the most successful competitive multiplayer survival games with over eight million players worldwide on PC, making it one of the most played games on distribution platform Steam. Double Eleven's announcement confirms the game's release in 2020 on Xbox One and PlayStation 4.
Students from the University's School of Computing, Engineering & Digital Technologies were invited to playtest the game before it was unveiled at X019 earlier this month, when it was livestreamed to millions of fans worldwide.
Double Eleven, which is based in Middlesbrough's Boho One, has worked on hugely popular titles like Minecraft Dungeons, Crackdown 3 and Prison Architect.
Playtesting is the industry's way to test and gather feedback on games in development before they are released. Four sessions were held at the University.
Harrison Walker was among students who took part. He said: 'It's the first time I have done something like this and it is really cool to be able to see a game before its release. When we are working on our own projects, it is a completely different scale and it is really interesting to be able to see something of this scale and relate it to how we would work on our own projects."
Taking part in playtesting means you get first-hand experience of a game before it is released
Austen James Long, BA (Hons) Computer Games Art, said: 'Taking part in playtesting means you get first-hand experience of a game before it is released and it provides an opportunity to learn about the different techniques which have been used during development of the game.'
Mark South, Chief Operating Officer at Double Eleven, said: 'We have always enjoyed a fantastic relationship with Teesside University and it is great to work together to build bridges between the student population and the Teesside games industry.'
Double Eleven signed a memorandum of understanding with the University earlier this year which outlined how the two organisations will work together to encourage and develop collaborative activities.
This will include a commitment to work together in a range of areas including knowledge exchange activities, research projects, course development, graduate placement and internships and staff exchanges.
---