Scholars inspired by memory of influential business leader
A scholarship launched in memory of an inspiring business leader is helping to shape the future career path of two women studying at Teesside University.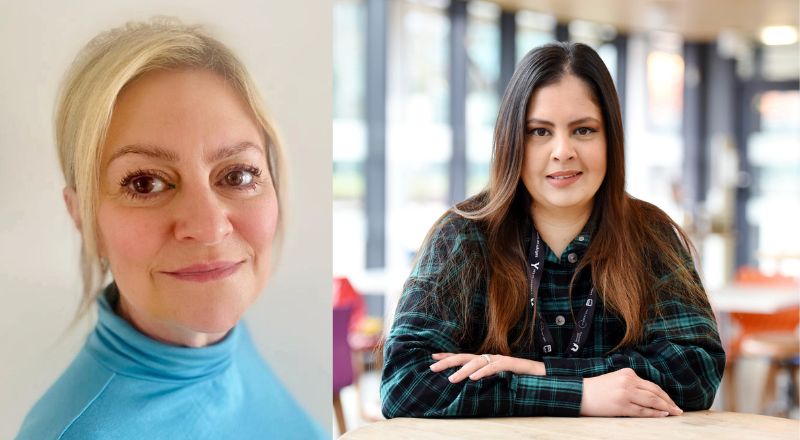 Professor Jane Turner OBE DL, former Teesside University Pro-Vice Chancellor for Enterprise and Business Engagement, was an influential business leader in the Tees Valley and a passionate advocate for young women in the region.
The Professor Jane Turner Scholarship, launched in her memory by Teesside University, contributes to her legacy of fostering innovation and entrepreneurial potential in women across the region.
Professor Turner was a vocal champion for women in the region and a passionate advocate for raising aspirations in the Tees Valley. And as we celebrate International Women's Day, two women who are studying at Teesside University share how the scholarship has had a positive impact on their lives.
Scholarship recipients Bernadette Myers and Tracy-Ann Ramlochan are both students at Teesside University International Business School. They share why the scholarship is helping to raise their aspirations and supporting them on their own career paths.
Bernadette Myers, 53, of Middlesbrough, is completing the BA (Hons) Project Management. Tracy-Ann Ramlochan, 36, who is originally from Trinidad & Tobago, is completing the BA (top-up) Airline & Airport Management.
How did you hear about the scholarship?
Bernadette: I read about the scholarship on the University's website
Tracy-Ann: The scholarship opportunity was brought to my attention by a recommendation from a prior tutor. I imagined how wonderful it would be to be able to earn a scholarship after returning to finish my school as an adult.
How has the scholarship helped you personally?
Bernadette: The scholarship has helped with funds personally to ease a bit of pressure while I develop and expand my organisation which is now in its second year.
Tracy-Ann: It will alleviate financial anxieties. The fact this was given to me as a gift to help me succeed makes me want to show Jane Turner's family that their gift is treasured, appreciated, and worth the investment.
Why did you choose Teesside University?
Bernadette: It's my hometown so it fits in with my work, school runs and all my other responsibilities. Also, the reputation of the Business School at Teesside.
Tracy-Ann: The diversity of the faculty and student was a big plus for me, as I'm used to being around multiple backgrounds and it made me feel like home, being able to communicate with diverse individuals to share stories, ideas and life skills. The nature of this university is so multicultural and focuses on the future of diversity, by accepting and promoting equality. Why not Teesside university, you won't get this mix of culture anywhere else.
What drew you to course you're studying?
Bernadette: I have a Community Interest Company which was launched in 2021 and this course has been useful in my role within the organisation. I have learnt so much already from this first year.
Tracy-Ann: Coming from a diverse background and having travelled most of my life and being educated in several different countries has taught me about empathy and to evaluate situations from multiple different perspectives. Diversity shows us that people are more similar than we realise. And just like diversity the aviation industry is just as divergent and serves as uniting us together rather than be a dividing factor.
What are your career aims?
Bernadette: Prior to the pandemic, I had been working for a local charity for thirteen years in various roles, including work club co-ordinator, tutor, course co-ordinator and life coaching clients with mental health issues, ex-offenders and prisoners within our local prison. However, the last year employed there I wasn't feeling challenged in the project I was working on. So, we created a Community Interest Company, Young@heart 2021 CIC and my role a managing director. We have continued to grow and expand the organisation.
Tracy-Ann: My long-term professional aim is to become an immigration officer at the UK's frontline law enforcement agency, the Home Office. I've always had a fascination for flying, but I'm even more enthusiastic about interacting with people of various cultures. The pursuit of a vocation that allows me to assist others while simultaneously increasing my own personal growth appears to be an excellent choice. Gaining satisfaction from knowing you're making a difference in people's lives and giving them a sense of security as they embark on new chapters of their lives.
How do you feel the scholarship might help with this?
Bernadette: All the benefits provided through the scholarship are helping with the continued growth of the organisation.
Tracy-Ann: As a wife and mother in this economic downturn, it is tough to find additional income to start anything new; therefore, this scholarship has provided me with funds to continue on to postgraduate studies once I complete my degree.
What are you enjoying most about your time at Teesside?
Bernadette: That it brings students of all ages together.
Tracy- Ann: It's diversity, I feel so much at home with the multicultural environment, and just learning from the experiences of others. There is such a rich culture of knowledge at this University and I'm so proud to be a part of it.
---