Teesside University footballers secure sporting success
Double success is being celebrated by Teesside University women's football team, after they clinched a league title and cup win.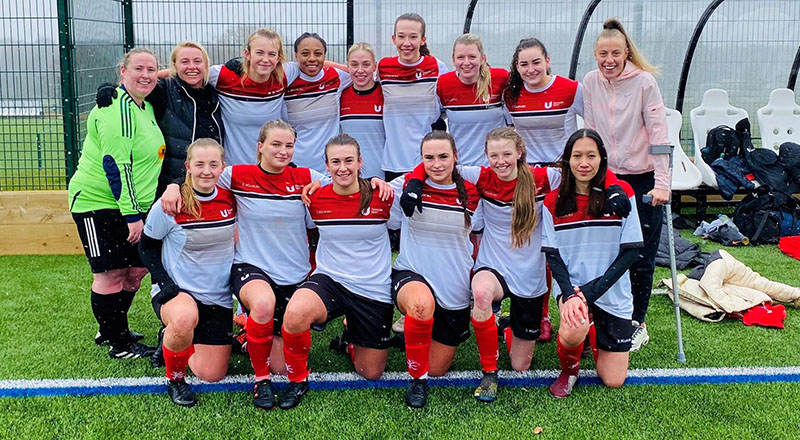 The team has been crowned winners of the BUCS (British Universities and Colleges Sport) league.
The league title comes just days after they won the BUCS Northern Cup Final. The cup final ended in a tense penalty shoot-out against a Liverpool John Moore's side, with Teesside winning 5-4.
Players from the women's team get support from the Teesside University Football Academy, which enables students to take part in professional football training and support while studying towards an academic qualification.
As well as providing an opportunity to study while continuing to train and play at a high level in football, the Football Academy offers bespoke coaching, sports conditioning, recovery and medical support, and access to University facilities such as the hydrotherapy pool, strength and conditioning labs and 3G football pitches.
The University also offers scholarships in association with England footballer, Beth Mead, who herself once studied at Teesside University, and former Middlesbrough FC player, George Friend.
Euros star Beth sent a video message of support to the team ahead of the BUCS Cup Final, which the players say really inspired them.
Shauna Gatley, who is studying MSc Physiotherapy, said: "The support from Beth really boosted everyone's confidence before the match. It gave us that extra oomph to not only do the university proud, but to do her proud too."
Shauna, who joined the team during their successful season, said: "It's been great to be part of the team and join in their success. I did my undergraduate degree at Teesside and was aware of the brilliant sports facilities, which made me want to do my master's here too.
"I wasn't involved in the football team as an undergraduate, but speaking to players, lecturers and coaches helped me to pluck up the courage to join the team. It created another aspect of my university journey that I didn't think I would be able to do before."
Having that extra support provided by the Football Academy has really helped me to develop as a footballer
Jazz Kelly, a first year BSc Physiotherapy student, said "The support from the Football Academy is brilliant. I've had sessions in the injury clinic, tailored and personalised to me, which helped me to get back on to the pitch following an ankle injury. We can get involved in strength and conditioning and the whole team had a hydrotherapy session before the final."
Jazz added: "I knew I wanted to study at Teesside and I was aware of the brilliant facilities as I play for Middlesbrough Women, which has a partnership with the University. Having that extra support provided by the Football Academy has really helped me to develop as a footballer."
Harriet Dryden, who is completing a Master of Public Health, added: "Being able to study while still being able to play football is helping to attract a great calibre of footballers to Teesside. The physical support and the academic support have been phenomenal."
BSc Physiotherapy student Philippa Waters, who is originally from Ireland, said: "I knew a lot of people who had studied here and chose Teesside because of the course. It's been great to be able to play football alongside studying."
Teesside University women's football team manager Claire Streeter said: "It's been really positive to see the team develop and grow. We have some really talented and passionate footballers at the University. The team has developed a great morale, which is reflected in their success both on and off the pitch, in achieving success and attracting new players."
---