Teesside University Football Academy
Get professional football training alongside your degree
Teesside Sport offers support for talented athletes through our Football Academy. The programme develops you holistically as a football player while you study for an academic qualification.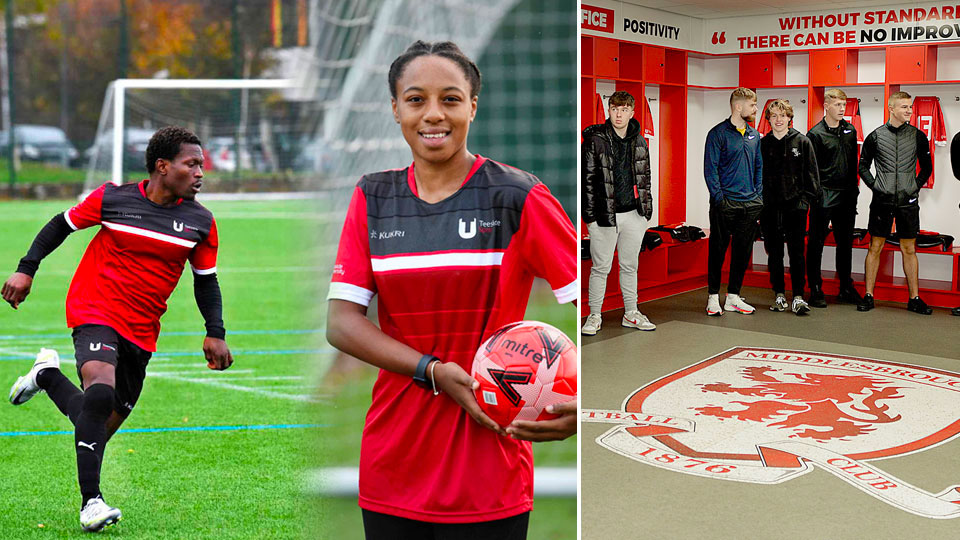 Programme overview
Our football academy offers you the opportunity to study in your preferred academic discipline, while continuing to train and play at a high level in football.
We're committed to developing football excellence to high-performing players - both men and women. We provide an outstanding environment that raises aspirations and enables you to succeed through a dual career pathway, whatever your academic discipline.
The academy programme has been developed in consultation with our key partners within English football, including Middlesbrough FC and Middlesbrough Women's FC.
Teesside Sport also offers innovative scholarships in association with England footballer, Beth Mead and former Middlesbrough FC player, George Friend.
Benefits
As a student athlete within our Football Academy you have access to:
10 hours a week of bespoke football-related activity such as coaching, conditioning, analysis, recovery and medical support
gym membership
our hydrotherapy pool and other rehabilitation services
up to £150 Teesside Sport kit
Costs
All costs are covered by your academic course fee - you don't need to pay anything more.
Entry criteria
You must:
have an interest in football and contribute positively to football at Teesside University through performance
be able to demonstrate a track record of success in football
successfully achieve a place on a course at Teesside during the 2023-24 academic year.
Find out more about our terms and conditions.
How to apply
Applications are now open. To apply, please click the apply now button and complete the application form. Your application won't be processed until you have received an academic offer from Teesside University. Offers are made subject to you meeting the eligibility criteria and enrolling on a course.
You can apply to Teesside University for any undergraduate full-time or part-time course (home and international students). Your course must contain 360 credits, and you must be studying at our Middlesbrough campus.
You need to provide a valid reference from a coach to demonstrate your footballing ability. You may be invited to trials for assessment.
Fulfil your sporting and career goals and apply today.
For more information please contact football.academy@tees.ac.uk.
George Friend Scholarship
If you are applying to Teesside University Football Academy, you could be eligible for a scholarship worth £1,000.
More about our George Friend scholarship
Beth Mead Scholarship
If you are applying to Teesside University Football Academy, you could be eligible for a scholarship worth £1,200.
More about our Beth Mead scholarship
Teesside University footballers secure sporting success
Double success is being celebrated by Teesside University women's football team, after they clinched a league title and cup win.
More about the league title and cup win