Sport & well-being
Teesside has top-quality sports facilities based in the Olympia. Open to all students offering a wide range of services and programmes, whether you are an elite athlete , want to try a new sport, play in a campus league, use the gym, volunteer in sport or try an outdoor activity. We offer the highest quality experience for you to get involved in sports during your student journey.
Commonwealth Games stars welcomed back to Teesside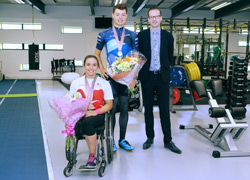 Teesside University marked the homecoming of two of its Commonwealth Games stars with a celebration on campus.
---
Elite athlete scheme
We help talented athletes reach their full potential.
Find out more
---
FA Girls' Regional Talent Club
Find out more about our FA Girls' Regional Talent Club.
Find out more
---
Twitter
Tweets by @teesside_sport
Facebook

Become a fan of Teesside Sport - join us on Facebook.
Facebook
Top-class facilities

We have top quality sport and fitness facilities, so make the most of them while you're here.
Sport and fitness at Teesside
Sharon smashes two world records

Ultra distance runner Sharon Gayter has smashed two world records at Teesside University.
Sharon smashes two world records