Applying to university
Apply online
Once your son/daughter has chosen the courses and universities they would like to apply for, they need to apply online through UCAS.
Apply online through the UCAS website.
Use our interactive timeline to find out what your son/daughter should be doing month by month or read the information below to get an overview of the application process.

Application timeline
See what your son/daughter should be doing month by month
View the timeline
When to apply
UCAS starts to receive applications from 1 September. There are three deadlines, depending on the course and university choice.
15 October - application deadline for all professional medicine, dentistry, veterinary medicine and veterinary science courses, and all courses at the universities of Oxford and Cambridge
15 January - application deadline for all courses except those with 15 October deadline
Applications received after these deadlines, up until 30 June, are only be considered if universities and colleges still have vacancies for the course(s) selected
UCAS checklist
Download our UCAS checklist to make the application process a lot simpler.


Download our checklist (pdf - 224kb)
The application
Jargon buster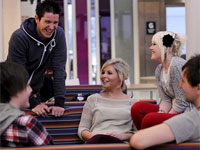 The application form is split into a number of sections - each needs to be completed:
Personal details - including name, address, date of birth
Completed qualifications - GCSEs and any other qualifications to date
Pending qualifications - A levels, BTECs and any GCSEs that are being retaken
Paid/voluntary employment - any part-time job, regardless of the role or hours worked
Choices - applicants can have up to five choices
Personal statement - the applicant needs to show their suitability for the course and demonstrate their enthusiasm and commitment
Payment - it costs £18 to apply for one choice and £24 for more than one choice and for applications sent after 30 June.
Personal statement
Encourage your son/daughter to make a start on their personal statement with our starter form.


Download our personal statement starter form (pdf - 259kb)
Entry requirements and tariff points
Universities usually make conditional offers in UCAS tariff points. Some courses may need points from certain subjects in the tariff points score. At Teesside University we give equal consideration to all academic and vocational qualifications. Your son or daughter may also have skills we can consider like work experience or vocational training. Don't be discouraged if they don't meet the exact entry requirements - encourage them to come and talk to us.
Find out more
View examples of tariff points
Examples of A-level tariff points

| Tariff points | A Level | BTEC |
| --- | --- | --- |
| 56 | A* | D* |
| 48 | A | D |
| 40 | B | |
| 32 | C | M |
| 28 | | |
| 24 | D | |
| 20 | | |
| 16 | E | P |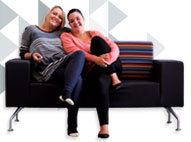 It's been an enjoyable process - I feel proud and excited for her. It's about letting her take the next step in her life.
Receiving offers
Once your son/daughter has submitted their application form, the universities they have applied to will contact them with a decision - either by letter or email. You can track the application's progress and any offers using UCAS Track, an online system. Universities have until May to make their offers. Each decision will be one of the following:
Conditional offer - the university will offer your son/daughter a place if they meet certain conditions, normally based on exam results
Unconditional offer - your son/daughter has already met the entry requirements and the university would like to accept their application
Withdrawn application - both your son/daughter and the university can withdraw the application either because they didn't respond to any correspondence from the university, or because they didn't attend an interview
Decline - there are a number of reasons why universities decline an applicant, for example if the course is full.
Once your son/daughter starts to receive offers back they need to respond in the following ways:
Firm acceptance - you can only have one firm acceptance and this is your first choice out of all the offers you've received
Insurance acceptance - as well as the first choice, your son/daughter can also select a back-up, which is called their insurance.
Decline - once your son/daughter has selected their firm and insurance choices they then need to decline all other offers.
They may also be invited to attend for an interview for some courses/universities.
Interview tips
Follow our tips to ensure you're ready to impress at your university interview.


Download our interview tips (pdf - 226kb)
Results
Track will update the status of your son/daughter's application e.g. accepted/rejected
If your son/daughter has met the entry requirements needed to fulfil their firm offer they will automatically be accepted by their first choice university.
UCAS Clearing
Clearing is a service that helps students without a university place to find a suitable vacancy at a university of their choice, dependent on capacity and entry requirements. It's available between July and September but tends to be used by most students after their exam results are published in August.
UCAS Extra
Extra is for students who have applied through UCAS and made five choices but aren't holding any offers. In Extra, students can apply for any course with vacancies from mid-February to early July.