Why choose Teesside?
We've invested over £270m in our town-centre campus giving us a leading edge in digital innovation, top-notch forensic facilities and sport and health sciences buildings.

We are ranked in the top 5 animation schools and colleges in the UK (Animation Career Review 2019 International Rankings. 167 colleges considered). Find out more at tees.ac.uk/source.

Our graduates are working all over the world for companies such as the BBC, Aston Martin, Disney, Johnson Matthey, HSBC, Vodafone, Microsoft, the NHS, Rolls-Royce, Raleigh UK, 22 Cans, Framestore.

The hub of student nightlife is our award-winning Students' Union - winner of the Gold accreditation in the 2017 Best Bar None awards.

We have affordable accommodation with free internet access - the cost of living is relatively low with student discounts widely available.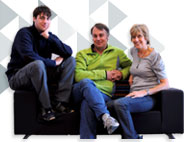 Open days are so important – they're really useful. Encourage your child to go, and go as a family as you all get to see.