Why choose Teesside?
We've invested over £270m in our town-centre campus giving us a leading edge in digital innovation, top-notch forensic facilities and sport and health sciences buildings.

We are ranked in the top 20 list of international animation schools (Animation Career Review 2018).

Our graduates are working all over the world for companies such as the BBC, Aston Martin, Disney, Johnson Matthey, HSBC, Vodafone, Microsoft, the NHS, Rolls-Royce, Raleigh UK, 22 Cans, Framestore.

The hub of student nightlife is our award-winning Students' Union - winner of the Gold accreditation in the 2017 Best Bar None awards.

We have affordable accommodation with free internet access - the cost of living is relatively low with student discounts widely available.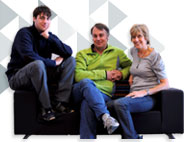 Open days are so important – they're really useful. Encourage your child to go, and go as a family as you all get to see.