Talented student makes her mark in national comic
Artwork produced by a creative student from Teesside University has featured in a special edition of a well-known comic.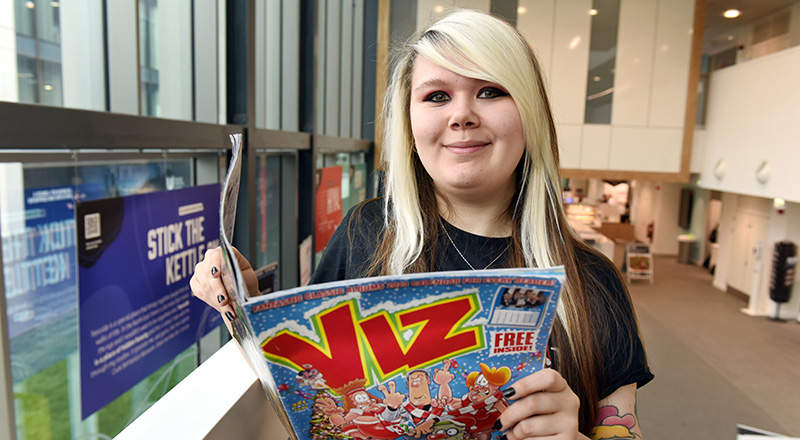 Kirsty Stebbings, who is currently completing her master's degree in Comics and Graphic Novels in Teesside University's School of Arts & Creative Industries, contributed to a special edition of Viz, a popular British comic filled with cartoons, slapstick humour and satire.
The comic strip which Kirsty brought to life with her illustrations, titled Toffee Penny, was based on the notion that the namesake Quality Street sweet is the least liked in the country.
Main character Penny sets out to collect everybody's leftover toffee penny sweets from Christmas to make Britain's biggest least favourite sweet and set a Guinness World Record, only to be bested by a boy who has used Liquorice Allsorts.
Kirsty was asked to contribute to the Christmas edition of the magazine by Graham Dury, Co-Editor of Viz, who she had previously networked with when he visited the University to deliver a talk to students.
Kirsty, 22, from Redcar, said: "It was exciting to see that I finally made it into Viz. It was surreal but cool.
"I went to Tesco on the way to university when it was published to get a copy. It was weird getting it off the shelf and giving it to the sales assistant. I just thought, 'I'm in this.'
"I think that that's one of the top goals honestly and I've hit it. But I can't stop now – onto the next one."
Kirsty draws inspiration for her work from her background and the place she grew up, as well as her pet chickens.
"I'm into that nostalgic sort of humour," Kirsty said. "Toffee Penny was right up my street because it's mainly slapstick British comedy."
As a collector of old Viz magazines, Kirsty was proud of her achievement, adding: "I've been drawing since I was 11. I'm 22 now and seeing that growth is fantastic.
My mum got me into cartoons and comics and my dad read Viz as a teenager. I think it's really cool that they were reading that at my age and now I'm in it.

"I've always been a big cartoon fan. My mum got me into cartoons and comics and my dad read Viz as a teenager. I think it's really cool that they were reading that at my age and now I'm in it."
Kirsty's feature in Viz is not the first time her work has been published. During her undergraduate studies, she produced her own 28-page magazine called Blast, which was picked up by a comic shop in Darlington.
Kirsty is completing MA Comics and Graphic Novels with advanced practice, which includes a semester of practical experience within industry. As part of this, she is undertaking teacher training and working towards becoming a comics and animation tutor.
Kirsty added: "I want to be an inspiration to students like my tutors are to me. Hearing stories from them inspires me to do stuff myself and be the type of person who has been everywhere, got the T-shirt and has holes in it."
Kirsty initially pursued animation during her undergraduate studies at Teesside University before discovering her passion for comics and switching courses. Having achieved a first-class honours degree, Kirsty was excited to begin her postgraduate journey.
She added: "I'm really enjoying my master's. Being able to create what I want with the support of the tutors is fantastic; they're kind of steering me to be the person I want to be."
Julian Lawrence, Senior Lecturer in Comics, Graphic Novels and Sequential Art, said: "We are extremely proud to see Kirsty's work featured in such a prominent publication. She is a very talented and conscientious student, making the most of every opportunity that comes her way, and we look forward to seeing what else she has in store."
---
In the News
Kirsty's work of art proves the biz for Viz
Evening Gazette, p.14, Print and Web, 09/03/2023  A Teesside student's artwork has made it into cult comic Viz. 
---
Design student makes her mark in national comic
Northern Echo, p.32, Print and Web, 06/03/2023 Teesside University student Kirsty Stebbings on her excitement of seeing her drawings in Viz magazine.