About the University
Teesside University is dynamic, energetic and innovative - Providing Opportunities, Driving Enterprise, Delivering Excellence - more about Teesside's mission.
University of the Year - the first modern university to win the Times Higher award.
Founded on a rich past - Over 80 years of innovation in education.
One of the top UK universities for widening participation in higher education.
Investment - £200m on our friendly town campus at the heart of Middlesbrough.
Our students love it - 84% of our students are happy with the teaching on their course.
We're research active - with an international reputation for excellence in enterprise.
Our alumni have gone on to great things - opera singer Suzannah Clarke; Marek Reichman, Design Director for Aston Martin; Deborah Dyer (singer, Skin); Roger Shannon, Cannes award-winning film producer.
Investors in People Gold - one of only five UK universities to receive cross-University accreditation.
Tees Valley is one of the country's best kept secrets. We've got top surf, a national park on the doorstep plus unique shopping and culture, bars and famous clubs.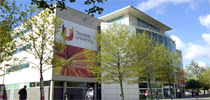 A great place to live and study
Request a prospectus
Worldwide Teesside