DigitalCity
Built on Teesside University's world-renowned expertise and reputation in digital media and digital technology, DigitalCity is creating record numbers of high-growth businesses and jobs in North East England.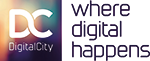 Working with industry experts, practitioners and researchers, DigitalCity is able to develop the thinking on tomorrow's challenges to encourage take up of new technologies and new engagement in research and development activities.
Uniquely driven by talent, creativity, business nous and academic know-how, DigitalCity is an outstanding example of the power of partnership – and Teesside University is right at the heart of it.