Recruit talent
Be inspired - contact us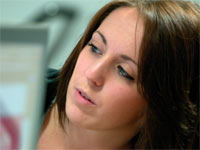 T: +44 (0)1642 384068
E: business@tees.ac.uk
.
Missing inspiration?
Our students and graduates - the final piece in your puzzle
Undergraduate student placements
A student placement can help you:
complete a special project
relieve the pressures of a busy workplace with an extra member of staff
discover new skills for your business.
Placements can be for a year as part of the student's four-year course or it could be over a shorter period to tackle a live project.
Knowledge transfer partnerships
If you want to increase your profits, your competitiveness and your productivity - a Knowledge Transfer Partnership (KTP) or or Knowledge Exchange Internship (KEI) could be the ideal solution.
More about knowledge transfer
Graduates for business
Graduates and North East businesses can both benefit from our graduates for business scheme.
Graduates for business
Industry placements
Eligible digital small or medium sized enterprises can receive support to recruit full-time permanent graduates, up to 50 percent subsidy against salary costs and six hours graduate training.
More about industry placements
Recruitment support
Be inspired - contact us
Teesside University exclusively uses the verification services provided by Qualification Check for all award verifications to prospective employers, recruitment services or specialist screening firms on behalf of the University. Full details of how you can do this are given on their website www.qualificationcheck.com
If you want to recruit and target our graduates our Careers Service can advertise your vacancies free of charge through our distribution networks and display your literature, publicity material or promotional DVDs.
More about recruitment help
Careers fair
This is a great way to get in touch with students - an economical way to recruit staff and promote your business.
More about our careers fair
ExpoTees
Our annual ExpoTees is brimming with emerging talent and digital expertise where you can meet top recruits
More about recruitment at ExpoTees
Employer and careers presentation events
Students enjoy hearing from employers about their experiences first hand. Come in and talk to students about your company, raise your profile and get the best out of your recruitment campaigns by briefing them on recruitment procedures. Call 01642 342260.


give a talk or presentation (pdf - 148kb)