Positive change created through Teesside University staff donations
Small change is helping to make a big difference for charities and organisations which deliver positive social impact in our local communities.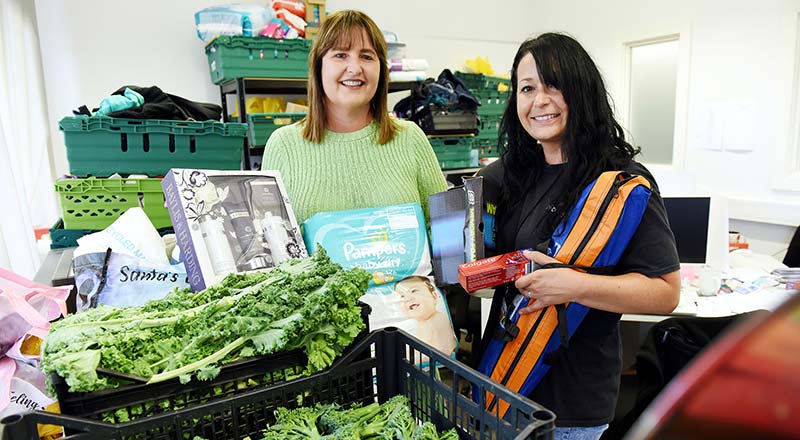 Teesside University's workplace giving scheme, Be the Change, has been able to make a positive impact on a wide range of organisations since it was launched earlier this year.
Be the Change is a new workplace giving scheme which asks colleagues to donate the spare pennies from their monthly salaries to help charities and community groups which are working tirelessly to make a difference to people's lives across the Tees Valley.
Members of Be the Change can then nominate organisations which are close to their heart to receive a cash boost.
The first round of donations has seen a total of £5,500 shared between eleven local organisations which address raising aspirations, build community cohesion, and promote digital inclusion across Teesside.
The first recipients are: Boosbeck Village Hall, Cause Foundation, Creative Minds, The Bungalow Project, Footprints in the Community, MAIN, Red Balloons, Saltburn Solidarity Foodbank, Teesside and District Society for the Blind, Nite Light CIC and The Unicorn Centre.
Caroline Murrell, Equine Operations Manager at the Unicorn Centre, a purpose-built facility in Middlesbrough offering riding therapy and training opportunities for disabled adults and children, said: "We were hit particularly hard during the pandemic, as we were unable to support a lot of our riders and there was a big impact on our fundraising.
"Just as there have been increases in everything linked to the cost of living, we're seeing increases in our costs. This donation will help greatly."
Nadia Gibany, founder of Nite Light CIC social enterprise in Middlesbrough which helps to improve the quality of life for the most vulnerable, said: "We really welcome this donation, which will help to cover the cost of basic items for those in need.
Teesside University is an anchor institution with a mission to transform lives and economies and we are really proud to be able to help our community in this way.
"We will use the donation to help to provide basic essential items such as tents and sleeping bags for people who are homeless." Heather Whyman, Chief Executive Officer of MAIN, said: "We support children from the age of five into adulthood with autism, learning disabilities and complex needs. Any donation which we receive is greatly appreciated; the financial support, along with the interns and volunteer support we receive from Teesside University, is invaluable."
Marie Blythe, from the Bungalow Project, added: "It's a truly humbling experience to be nominated and recognised for the work that we do, and we'd like to thank Teesside University for their focus on social responsibility and commitment to improve the lives of our local community."
Dr Jo Heaton-Marriott, Executive Director of Communications and Development at Teesside University, said: "We want to thank everyone from Team Teesside who has already pledged to support our workplace giving scheme Be the Change.
"Their generosity is helping to support an array of organisations which are already making a real difference to people here in the Tees Valley.
"Teesside University is an anchor institution with a mission to transform lives and economies and we are really proud to be able to help our community in this way."
Be the Change forms part of the University's Community Investment and Social Impact Strategy.
The next round of Be the Change recipients will be announced later this year.
---