American experience for games art graduate
Computer games art graduate Selina Peart-Pearson jetted off to America during her degree studies after being invited to a global event.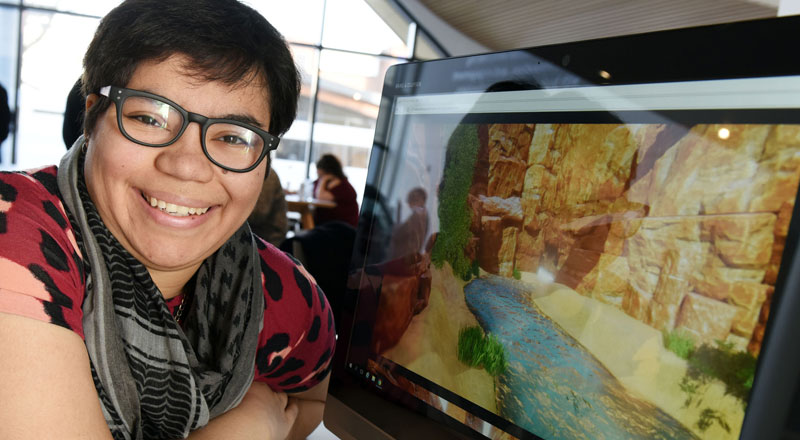 Selina was among a handful of lucky students to win an all-expenses paid trip to the world's largest professional game industry event GDC (Game Developers Conference) held in San Francisco earlier this year, during the final year of her degree.
'It was very exciting to travel to America for a GDC, as it's a huge international event," said BA (Hons) Computer Games Art graduate Selina, 26, who is originally from Huddersfield.
She added: 'It was great to meet the the nine other students who also won the chance to go to GDC too and find out what they were studying and how it compared to my own experiences.
'My specialism is technical art, which is quite a niche area, so I was really excited when I found out there will be a workshop on it at GDC.
'Studying games art at Teesside has given me so many opportunities to network within the industry and meet like-minded people, all which has helped me to prepare for my first position in the industry.'
Studying games art at Teesside has given me so many opportunities
Selina added: 'During the degree we worked closely with students on the computer games design and animation pathway too, which helped in providing an understanding of the entire development process from all viewpoints, which is extremely valuable when it comes to working together.
'Although I decided to specialise in technical art, the games art course allowed me to experience every aspect of games art, from concept art to 3D modelling, which let me make a more informed decision about what I wanted to specialise in.
'We completed many modules working as a team, with complete creative freedom. It is an amazing way to try and learn new things and improve your skills.'
She added: 'I wanted to study at Teesside University as I was told it was the best place for computing. The course has been great and has put me on the right path to work towards a career in the computer games industry.'
---