Teesside University spinout company TeeGene Biotech is heading back to New Zealand in August to participate in further discussions about exploiting the scientific and commercial potential of algae.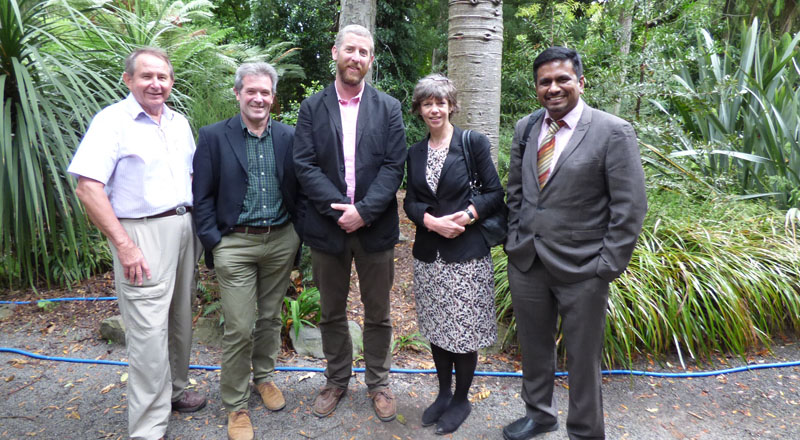 The visit, which has been made possible by an international workshop grant from Research Council UK, enables TeeGene to participate in a workshop co-organised by two of the Networks in Industrial Biotechnology and Bioenergy (BBSRC NIBB): PHYCONET whose aim is to promote R&D into high value products from microalgae, and 'Crossing Biological Membranes' (CBMNet). The participants in the workshop are UK and New Zealand biotech industries and research institutions, together with relevant academic experts.
The event is hosted by The Cawthron Institute, New Zealand's largest independent science organisation which has an aquatic biotechnology department involved in algal technologies, aquaculture, environmental monitoring and seafood safety. The institute has significant experience with algal biology and commercial algal production systems and is also involved in developing and commercially exploiting its discoveries.
Algae have attracted considerable interest globally as a potential feedstock for a bio-based economy. The remarkable diversity of algae represents a (largely untapped) resource of valuable compounds for that could contribute to the pharmaceutical, nutraceutical, food and cosmetics sectors.
UK companies and academics have laid the foundations for several new globally-used algal biotechnology and engineering advances, and as an island nation the UK has a strong history in macroalgal commercial activities. New Zealand similarly has a strong focus on marine biotechnology and the discovery of novel marine products. Its unique marine environment is recognised as a potential source of added value products (nutraceuticals, food products, cosmetics).
Dr Pattanathu Rahman, director of TeeGene and leader for the Food Science and Biotechnology programme at Teesside University, said the impact of New Zealand's biological research is far-reaching and offers great opportunities for UK industry and research-focused institutes.
He added: 'There is a significant technology transfer opportunity for the companies to collaborate. The trade development team at UKTI and British High Commission, which hosted TeeGene's R&D delegation last year, supports the visits and wishes to develop a strong and mutually profitable relationship between the two countries' research institutions and commercial entities.
'It will be a great opportunity to strengthen the collaborative links developed in our previous visit. We are delighted and very proud that our collaborative international links are expanding through Research Council's funding support and CBMNet and Phyconet's co-ordination with access to thousands of their members.
'BBSRC has identified industrial biotechnology and bioenergy as high-level priority areas in its Strategic Plan 2016-2020. The support from BBSRC plays a major role in the development of next generation biological systems and novel bioprocesses towards improved manufacturing in industries.'
---
Courses
---