Dr Gill Owens
In 2020, Teesside University became the first Adobe Creative Campus in Europe, joining a select group of colleges and universities that are driving the future of digital literacy within the global higher education community.
Dr Gill Owens, Head of Department (Business) at Teesside University International Business School, explains how she has used Adobe Creative Cloud to develop innovative teaching techniques to enhance the learning experience for her students.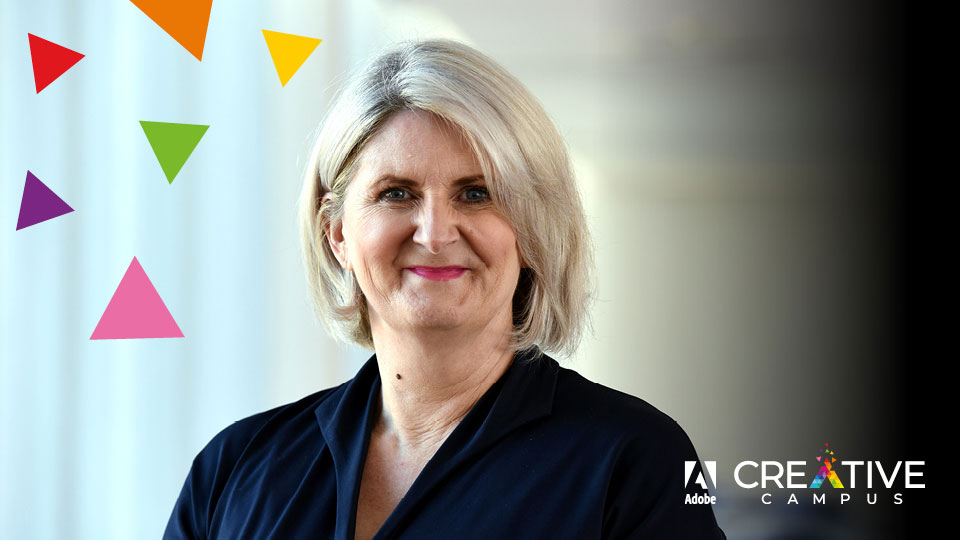 This is a perfect example of the way we teach students through experiences. We pride ourselves on teaching our students the industry-relevant skills that can be applied externally when they graduate.
Which Adobe products have you have been using in your teaching?
I have been using Adobe Spark to create visuals to assist with my teaching. We have found that Adobe Spark's mobile and web design apps such as Spark Page, Spark Post and Spark Video have created a real buzz during our teaching sessions.
Aside from my own teaching, and with the help of EdgeGain, an innovative learning provider of Adobe, we have adopted a new delivery mode for our Business Enterprise module. This is studied by every undergraduate enrolled at Teesside University International Business School. As there are no seminars or lectures for this module, it's all about putting theory and knowledge into practice and developing a sustainable business idea, designing it and communicating, using the Adobe Creative Cloud applications.
For the beginning and end of the module we have created a 60 second Adobe Spark learning video. The initial video focuses on what will be taught and the final video focuses on celebrating successes, to create a fully formulated student experience.
How is Adobe Creative Cloud helping with your teaching?
Using Adobe Creative Cloud has enabled me to get back to what feels like real communication, and to enhance knowledge exchange during learning. This is as important as ever, as teaching in higher education is a fast-moving environment.
The Adobe Creative Cloud applications have helped me to become more innovative and creative in terms of offering learning in more bite-sized chunks. It has also helped me to be more creative with visuals, which encourages more inventive student presentations.
How has access to Adobe Creative Cloud improved the student experience?
Adobe Creative Cloud has helped to engage students in the content of the module and they are very keen to keep up-to-date with the latest software to improve their future employability skills. Our EdgeGain facilitators were so impressed with how quickly our students picked up new Adobe Spark skills that they introduced other applications for their use such as XD and Animate.
By referring to the learning pyramid we found that standard lectures result in 5% of learning retention from students whereas practice by doing results in 75% and teaching others offers 90% of both retention and recollection skills. Subsequently, students studying the module were asked to be more participative in tasks and a small group were asked to create a 90-minute workshop which they were planning to deliver to further education college lecturers. The workshop demonstrated how they can incorporate Adobe applications, particularly Spark into their teaching. Although these plans were postponed, we are confident this method will be used again in future.
Has your teaching/work changed as a result of working with Adobe?
Working with Adobe has helped me in planning and preparing for sessions as well as keeping me more focused on tasks. It has also encouraged me to be more creative and test out new ways of presenting work to further engage students.
How have your students benefited from using Adobe Creative Cloud?
Getting to grips with Adobe Spark, XD, Dimension and Photoshop has led my students to develop skills that many contemporary employers are looking for, such as visual design, communication design and app development.
By using Adobe Creative Cloud effectively, my students are now able to contribute creatively to projects and will be able to flex between multiple platforms, regardless of which job role they secure.