Lynne Hugill
In 2020, Teesside University became the first Adobe Creative Campus in Europe, joining a select group of colleges and universities that are driving the future of digital literacy within the global higher education community.
Lynne Hugill, Principal Lecturer (International), School of Arts & Creative Industries, explains how she has used Adobe Creative Cloud to develop innovative teaching techniques to enhance the learning experience for her fashion students.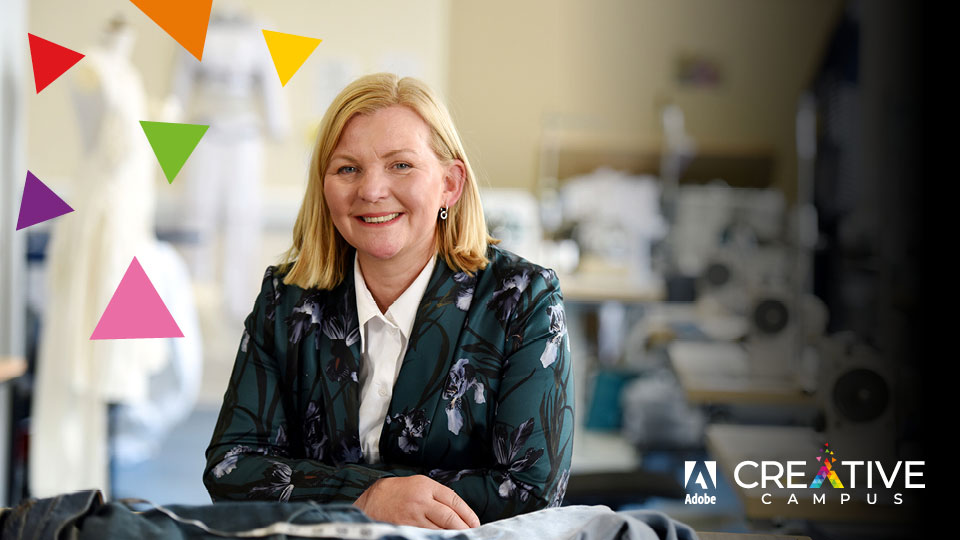 By incorporating industry-recognised Adobe skills into learning, we are empowering our students to innovate, develop and refine their design skills, to turn their ideas into career opportunities.
Which Adobe products have you have been using in your teaching?
I use Adobe Illustrator and InDesign to create garment illustrations - these are widely recognised as essential software tools in the fashion industry. If you are seeking a job in fashion, you are required to be proficient in Illustrator as it covers all facets of fashion design - from sketching, to patternmaking, to logo ideation.
I have been using Adobe Spark to create innovative presentations, which I will soon be delivering to a group of fashion students in Malaysia. Spark has enabled me to create stunning social graphics and short videos.
I have found Adobe Fresco beneficial as it automatically records my drawing strokes and creates a time-lapse video that shows my work coming to life. It has also been highly useful for graphics as it can be adapted to create technical drawings for garments.
When seeking inspiration for ideas, I used Adobe Capture to transform my photos into patterns, and in some cases colour palettes, to create mood boards. It can effectively turn your phone or tablet into a creation library as it allows you to take pictures on the move.
How is Adobe Creative Cloud helping with your teaching?
Adobe Spark has extensive functions, with tools to help me create innovative presentations and slideshows. By learning how to use this effectively, I can swiftly produce and share visual stories which students have endorsed, as they can be visualised clearly on their mobile devices.
The use of Adobe Fresco has allowed me to produce swift, true to life effects, while Adobe Capture has enabled me to create quick production ready themes. These tools have given me time-saving and efficient solutions to capturing creative ideas.
The use of the drawing function on Adobe Illustrator, involving the use of pencils on iPads for drawing and sketching, has been a revelation. This has offered me and our students a tool to sketch ideas quickly, which is a valuable asset as our industry constantly calls for speed in design concepts.
Since offering students more time to explore the Adobe apps, it has been wonderful to observe their increased confidence and engagement in the course content.
How has access to Adobe Creative Cloud improved the student experience?
Using Adobe products has offered students a starting point in learning how to draw. They have commended the use of the pencil function, using Adobe Illustrator, on their iPads. They have used this for drawings, art creation, note taking, and similar tasks because it is precise, and offers pressure and tilt sensitivity.
By learning the functionalities of Adobe tools, students have increased their confidence and engagement in their studies, leading to an improved focus on their portfolio work. Adobe products have empowered our students to innovate, as well as communicate meaningfully, so they can turn their ideas into career opportunities.
How have your students benefited from using Adobe Creative Cloud?
Adobe Creative Cloud has helped our students to develop, form and sketch ideas out at speed. The ability to sketch quickly has helped students to increase the amount of designs they have produced, as well as offered them opportunities for further practise to refine their skills.
We are teaching our students the practical skills to help them master their craft, while also enhancing their vocational prospects - whether in the fashion industry or a business-related field.
How will this experience help them when they enter the workplace?
The use of Adobe products is an essential skill for the fashion industry, and one which employers require as standard in many roles on offer.
Having an Adobe accreditation on their CV offers employers a guarantee that they can use the products effectively, and subsequently boosts their career prospects.