Students' Union
Students' Union Officers 2022/23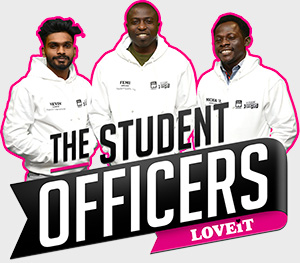 From left to right: Nevin Edwin (President International), Femi Abolade (President Wellbeing), Michael Adewunmi (President Education).
Find out more about our student officers
---

Teesside University Students' Union is led by you, for you.
It provides you with activities, advice, events, support and much more. We're here to help you with everything you need during your time at Teesside University.
We're really proud of our gold accredited premises in the Best Bar None awards, and we've been rated number one in the world by international students in 2022.
Social spaces
Choose from so many social spaces - from The Terrace with a wide range of food, drinks and big screen sport, to The Hub for music events, freshers fairs and club nights. We also have the Love It Lounge and SU Studio study spaces for you.
There's space whether you're working on assignments or dancing into the weekend.
Student support
Teesside University Students' Union provides you with free, independent support from qualified advisers, for some of your student life issues - whether it's about accommodation or your course. We're always here to help or put you in touch with somebody who can.
School and course reps are on hand to provide support and guidance to help make your experience studying at Teesside University as smooth as possible.
Connect with your representatives
Student activities
Societies, which are run by the Students' Union, are a great way for you to get more from your time at university, develop new skills, boost your mental health and meet new people. There is an ever-widening range of groups available, from general interests and hobbies, academic themes, faiths, and religions, and they are all free to join.
Check out the societies on offer
Students' Union shop
Get sandwiches, drinks, snacks, stationery and course-related materials, six days a week, all at student-friendly prices.
TOTUM app and card

The TOTUM app is free to download and provides great discounts and offers on food, drink, cinema, fashion, music and more. Available for just £14.99 for one year, or £24.99 for two years. A physical card is also available.