Business news
There are 86 relevant news articles |

RSS feed | Teesside in the news
Business Matters
---

Apprentice success for Teesside Entrepreneurs
21 May 2013
A team of entrepreneurs from Teesside University has won the regional finals of a competition for young apprentices.
---

Competition success for DigitalCity Fellows Spearhead Interactive
17 May 2013
A newly-established company which creates state-of-the art interactive 3D visualisations has reached the finals of a prestigious competition for digital startups.
---

Leading entrepreneur takes charge at DigitalCity Innovation
14 May 2013
One of the North-East's foremost entrepreneurs has joined DigitalCity Innovation at Teesside University to help develop the next generation of businesses.
---

Ambitious plans detailed at launch of Searchcamp
09 May 2013
Ambitious plans to make Middlesbrough the startup capital of the country have been unveiled at the launch of a unique incubator programme for new digital businesses.
---

DigitalCity Fellowship allows academic to set up 'life changing' business
08 May 2013
A digital start-up business is using complex data analysis to help in the fight against disease and to keep homes more energy efficient.
---

Business top brass gather for annual Teesside University conference
07 May 2013
At a time when economic turbulence is prominent in everyone's minds, the airline industry was among the varied topics in the spotlight when British Airways Chief Executive Keith Williams joined speakers at the annual Teesside University Business School Conference.
---

International company looking to recruit more Teesside graduates
07 May 2013
A high-flying graduate who set out on a trailblazing career after showcasing his work at Teesside University's annual ExpoTees festival is returning to the region to recruit more Teesside talent.

Watch the video
---

Last chance to submit applications for Searchcamp
01 May 2013
Applications are coming in from all over the world to take part in a unique business accelerator programme based at Teesside University.
---

Teesside University graduate helps win Bafta for Paralympic website
01 May 2013
A Teesside University graduate whose company designed the Channel 4 Paralympics website is celebrating after picking up a major award at a star-studded ceremony.
---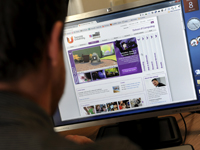 Google and Teesside University support teachers with computer science event
30 April 2013
Teesside University is to help teachers develop the next generation of computer scientists thanks to a grant from Google.
---
View articles 11 - 20