There are 61 relevant news articles |

RSS feed | Teesside in the news
Teesside University's biotech firm TeeGene joins British delegation to New Zealand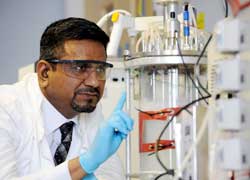 01 February 2016
TeeGene Biotech has been selected to take part in a British research and development (R&D) delegation to New Zealand.
Duo appointed as Ithica Films continues to grow
18 January 2016
A North East film production company, set up by a Teesside University graduate, has turned to local talent as it expands its team, looking to build on a successful 2015.
Making success a reality with virtual worlds
07 January 2016
From helping to visualise the human genome, to an immersive experience of travelling through a fridge, a North-East tech firm is helping to push the boundaries of virtual reality.
Teesside University was the ticket to success for booking company
04 January 2016
A company founded by a Teesside University graduate is now handling more than a quarter of a billion pounds of bookings each year.
First cohort of learners graduate from leadership course
04 January 2016
Learners on the first cohort of a unique course which develops future leaders of the region's process industries have completed their studies.
Research project wins major accolade
17 December 2015
A joint research project between Teesside University and a North-East architectural company has been judged one of the best in its field.
Innovative start-up preserving precious memories of life in 3D
15 December 2015
An innovative new business is using advanced 3D technology to help people preserve precious memories in the form of highly detailed models.
Leadership events to help businesses grow
10 December 2015
An Olympic athlete, a professional jazz musician, a voice coach and leading figures from the world of business have been invited by Teesside University to help Tees Valley business leaders improve their skills.
Research will help develop international BIM Initiatives
02 December 2015
An internationally-leading research collaboration, involving a Teesside University academic, will help policy makers around the world achieve higher productivity within their construction industries.
Teesside welcomes new Director-General of CBI
25 November 2015
The new Director-General of the CBI (Confederation of British Industry), Carolyn Fairbairn, has visited Teesside University and met with Vice-Chancellor Professor Paul Croney as part of a tour of the North-East.
View articles 11 - 20

Customer First

We guarantee quality. All our business services carry the Customer First Standard, a quality mark recognising excellent customer service. And we can also help you source financial support.
Our business service charter sets out our commitment to a professional business service for all our clients.