Dr Ken Home scholarship
Investing in your future
If you are a local student, applying to an engineering-related undergraduate course, you could be eligible for this award.
Dr Ken Home is an honorary graduate of Teesside University - he was awarded a Doctorate in Business Administration in 2013. He attended Victoria Road School and, while an apprentice draftsman with Dorman Long, he studied at Constantine College, which later became Teesside University. He is founder of K Home International Ltd - a multidiscipline engineering design service, celebrating 40 years of successfully delivering engineering projects throughout the world.
Engineering courses
---
In 2014, Dr Ken Home made a significant donation to the University's development fund to support scholarships. The Dr Ken Home scholarships are for students enrolling on an undergraduate course in the School of Science, Engineering & Design.
Student profile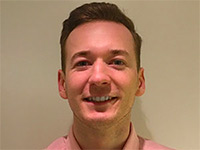 'Being selected for such a prestigious scholarship filled me with confidence to pursue an engineering career.'
Two awards are available for 2019-20 academic year
We have two £5,000 scholarships for local students applying for an engineering-related undergraduate course at Teesside University. The scholarship is disbursed across the full programme of study.
Dr Ken Home scholarship eligibility
To be eligible to apply for one of these scholarships you must:
choose Teesside University as your first accepted choice with UCAS
have lived in the Tees Valley or North Yorkshire region for the last two years.
How to apply
If you are eligible for this award, the School of Science, Engineering & Design will identify you as a suitable candidate at interview stage. They will invite you to complete a written application form and will award to the two best candidates.